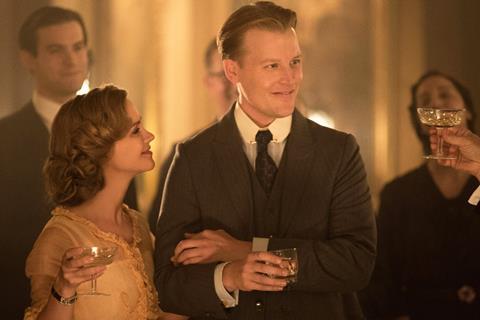 Speaking in Zurich, Christine Vachon, co-founder of Killer Films, has given further details of why the company – one of the stalwarts of the US independent scene for more than two decades – signed a first-look deal with Amazon Studios earlier this year.
"Obviously, the fact that [producer] Ted Hope went in to manage a lot of the film side [at Amazon] was a tremendous pull for us because Ted and I have worked together for many years and have a lot of mutual respect for each other," Vachon explained.
Killer Films has done one TV show with Amazon thus far (Z: The Beginning Of Everything). "We hope to do more. [The Amazon deal] just seemed to make a lot of sense from a pragmatic point of view. There was a lot in common. The kind of content they want to create feels very close to what Killer does."
Todd Haynes is preparing a TV series on "a major figure of the 20th century" (Vachon wouldn't disclose which one), which is likely to be made with Amazon.
Haynes' latest feature Wonderstruck has just screened at San Sebastian and is screening at the BFI London Film Festival this week as the Journey Gala. The prolific US director is also currently working on his much-hyped Velvet Underground documentary.
Now in business with Amazon, Killer has also on occasion sold films to Netflix, among them Elizabeth Wood's White Girl (which was still able to secure a small theatrical release through Film Rise). "We're in the process of potentially making a film with them now but we haven't done any television with them yet," she said of Netflix.
As ever, Killer has several projects in the pipeline. One of the more intriguing is Brady Corbet's second feature as a director, Vox Lux, due to shoot by the end of the year and on which Killer is partnering with Bold Films.
"I knew Brady as an actor first and foremost. Then I did see his previous film (The Childhood Of A Leader) and I was very impressed by it, especially as a first film. When he brought us this script, we were very open to it."
Colette, a biopic of the French novelist starring Keira Knightley, is in post-production. Killer co-produced with Bold and with Number 9 Films, its partners on Carol.
Killer is also working again with Todd Solondz on new feature Love Child. Vachon had no new details to disclose on this other than that it isn't being made through the Amazon deal.
Cause for optimism
Following her remarks at the Zurich Summit, the Killer co-founder was again striking a generally upbeat note about the state of the independent market. "Just because the story you want to tell isn't necessarily theatrical, that doesn't mean it shouldn't be told. There are a lot of different ways to monetise content. We're constantly learning and trying to figure out how to stay in front," Vachon reflected.
She dismissed the knee-jerk reaction the industry makes to failures at Sundance and elsewhere. "If one film doesn't work, it's like oh, well, none of them will."
Killer itself had success at Sundance this year with Beatriz At Dinner starring Salma Hayek, which was sold to Roadside Attractions and did solid box office when it was released in the US in June.
The company remains committed to working with first-time filmmakers as well as established names like Haynes. "We like to stay vital. We like to create new relationships."
Killer recently partnered for the first time with veteran writer-director Paul Schrader on his latest feature, First Reformed, which was bought by A24 and will be released in 2018.
"We had just worked with Todd Solondz and I think Todd and Paul are friends. I believe Todd suggested to Paul that Killer has a knack of getting those movies made that no-one else can," Vachon said of how Schrader came to Killer films. "[First Reformed] was an extraordinary script and it also feels like an intensely personal film for him. I just thought we could really help him bring it together."
She pointed to its "big themes" (among them climate change) and to Ethan Hawke's character – a priest with a crisis of faith struggling to work out his place in the world – as elements that made First Reformed a strong theatrical prospect. The presence of stars like Hawke and Amanda Seyfried also helped.
Vachon was at the vanguard of the flourishing US indie cinema scene in the 1990s. Her first feature Poison was a Grand Jury Prize winner at Sundance way back in 1991 but, no, she says she feels no nostalgia for the heady days of the '90s.
"I am not nostalgic. It is not an emotion I possess. It is an exciting period now. I am not cynical. I really take tremendous pleasure in what I do. I try not to get beaten down ever by the perception there is some inherent dishonesty in our business. I always feel the best is yet to come," she declared.