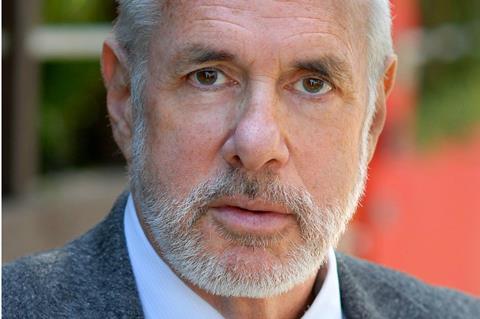 David Weisman, the Oscar-nominated producer of Kiss Of The Spider Woman and an accomplished graphic artist, has died in Los Angeles from illness. He was 77.
Weisman passed away on October 9 at Cedars Sinai Hospital in Los Angeles due to complications from neuroinvasive West Nile virus.
Born in Binghamton, New York, on March 11, 1942, Weisman attended Syracuse University's School of Fine Arts in the early 1960's. Inspired by La Dolce Vita, Weisman dropped out of college and travelled to Italy, where he found work designing film posters in Rome, including one for Federico Fellini's 8 1/2.
Upon his return to New York, Weisman was hired by Otto Preminger to create the title sequence for Hurry Sundown and then became Preminger's assistant on the film. He also designed the key art for The Boys In The Band, among many others.
In 1967 Weisman began the production of the "aboveground-underground" cult classic about Edie Sedgwick, Ciao! Manhattan, which he co-wrote and co-directed with Andy Warhol alumnus John Palmer.
He then worked as associate director on Nelson Lyon's avant-garde film The Telephone Book and created an English-language film edited from a series of Japanese samurai-movies, which Roger Corman's New World Pictures released as Shogun Assassin.
Weisman's long collaboration with Leonard Schrader began on documentary The Killing Of America, which he co-wrote with Leonard and Chieko Schrader. Schrader's background in Latin American literature and Weisman's familiarity with South America from his travels sparked a search for a film they could make n the region.
In 1982, using his proceeds from a re-release of Ciao! Manhattan, Weisman acquired screen rights to Manuel Puig's Kiss Of The Spider Woman and developed the screenplay with Schrader. They began pre-production on the film with Burt Lancaster, Raul Julia and Sonia Braga in the lead roles, but in October 1983, as director Hector Babenco commenced filming in São Paulo, Brazil, William Hurt replaced an ailing Lancaster.
When Babenco himself suffered a health crisis in 1984, Weisman completed the film's editing with Schrader. Arduous post-production took place over 14 months in Weisman's Los Angeles home, and eventually Kiss Of The Spider Woman played in Official Selection in Cannes 1985, where William Hurt won the best actor award.
Island Alive released the film in the US that autumn and it went on to gross close to $18m, an impressive number for an independent feature, before awards recognition in the form of best picture, screenplay and directing Oscar nods, and a best actor win for Hurt.
Weismen spent much of the 1990's preparing a documentary on Sedgwick and in 2006 co-authored a book with Melissa Painter called Edie Called Edie: Girl On Fire. He recently won a lawsuit giving him the publicity rights to Sedgwick's name and likeness.
In recent years he developed several projects with Paul Schrader; one entitled Little K, as well as Xtreme City, is a Hollywood-Bollywood project developed with Shahrukh Khan.
Weisman is survived by his brother, film and television director Sam Weisman, sister-in-law Constance McCashin, nephew Daniel Weisman, and niece Margaux Weisman.
A memorial celebration is in the planning stages. Donations in Weisman's memory can be made to Save Tigers Now.