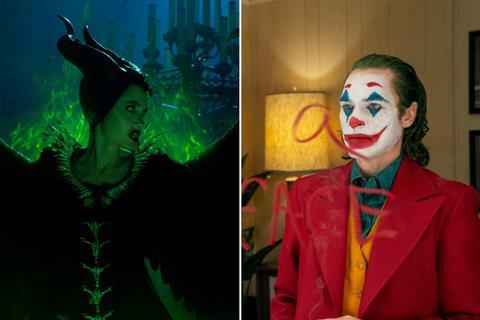 Can the mistress of evil usurp the malign genius of Joker at the global and international box office this weekend? Disney's fantasy sequel certainly has the weapons given that the 2014 original earned $517m by the end of its run.
Joker retained its crown in style last weekend on a magnificent $125.3m via Warner Bros Pictures International and stands at $409m internationally, and $623m worldwide. Insiders forecast the origins story to finish on around $800m worldwide, which suggests it will start to slow down this session.
Maleficent: Mistress Of Evil launched via Walt Disney Studios Motion Pictures International in France, Belgium, Netherlands, Sweden, Indonesia, Philippines and Thailand on Wednesday and is shaping up for a big session.
Studio executives will report numbers on Sunday, however that opening salvo would have delivered a strong statement of intent, and was followed on Thursday by Germany, Italy, Russia, Australia, South Korea, Brazil and Argentina, among others, before debuts on Friday in the UK, Mexico, China, Spain, and Japan.
When Maleficent launched in summer 2014 it produced a string of noteworthy bows, led by China on $22m, the UK on $11m, Brazil on $5.6m, France on $5m, and Germany on $4.9m en route to a $517m final international haul, and $758m worldwide. Fox's Brad Pitt sci-fi Ad Astra stands at $74.1m.
Ang Lee's sci-fi thriller Gemini Man with Will Smith has reached an early $48m and launches in China via Fosun.
Abominable from DreamWorks Animation and Pearl Studio has crossed $50m through Universal Pictures International. The distributor releases local-language title Ich War Noch Niemals In New York in German-speaking Europe.