South Korea and China have signed a landmark co-production agreement that will allow approved films to be officially classified as local films in both countries.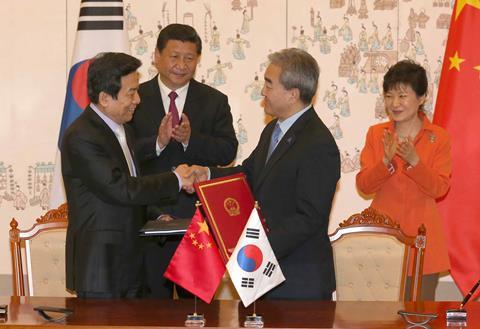 In the works since August 2011, the agreement most notably allows Korea-China co-productions to screen in China as local films - not subject to the country's strict foreign film quotas of 34 films a year under profit-sharing deals and 30 films as flat-rate imports.
Having signed an MOU in June 2013, the two countries solidified the co-production agreement during Chinese president Xi Jinping's visit to Seoul yesterday (July 3). Cai Fu Chao, director of China's State Administration of Radio, Film and Television, and Yoo Jin-ryong, South Korea's minister of Culture, Sports and Tourism, signed the agreement after a summit between Xi and South Korean president Park Geun-hye.
The co-production agreement is due to go into effect after both countries confirm they have completed domestic processes, according to Seoul's Ministry of Culture, Sports and Tourism.
The ministry also emphasized that aside from the quota-related benefits, it expects the agreement will invigorate more special effects cooperation and filmmaking crew exchange.
They went on to state Korea and China plan to work to expand exchange and cooperation between their cultural contents industries, starting with discussions about forming a cultural content co-production fund, creating a committee of Korea-China content experts and opening industry forums for further research and cooperative projects.