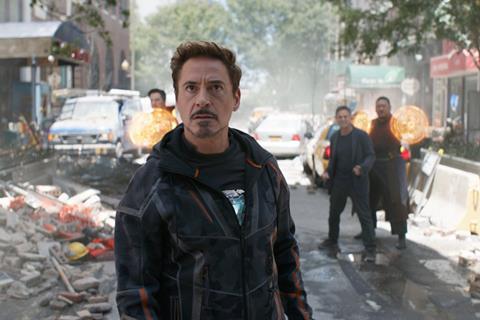 South Korea's total box office increased by 2.4% to $711.3m (KW802.5bn) in the first half of the year, according to figures from the Korean Film Council (KOFIC), although total admissions decreased by 1% to 96.36 million.
The revenue growth can partly be attributed to an increase in the average ticket price, which grew from $7.14 (KW8,055) in the first half of 2017 to $7.38 (KW8,329) in the first half of this year.
In addition, ticket sales of 3D, 4D and IMAX films increased by a whopping 79% year-on-year to $36.3m in the first half of 2018, on admissions that were up 69% to 3.2 million. Films such as Avengers: Infinity War, Jurassic World: Fallen Kingdom and Along With The Gods all played well in specialised formats.
Local films accounted for 46.7% of total admissions in the first half, up 3.9% compared to the same period last year, due to what KOFIC analyses as a diversification in genres for audiences to choose from including fantasy, melodrama, music, horror and drama.
Disney's Avengers: Infinity War topped the box office during this period, grossing $88.49m from 11.2 million admissions across 2,553 screens.
Local fantasy title Along With The Gods: The Two Worlds, released by Lotte Entertainment on December 20, 2017, came in second with $41.95m from 5.97 million admissions across 1,912 screens.
These two titles were followed by Jurassic World: Fallen Kingdom with 5.52 million admissions, Black Panther (5.4 million), 1987: When The Day Comes (5.29 million) and Believer (5.04 million).