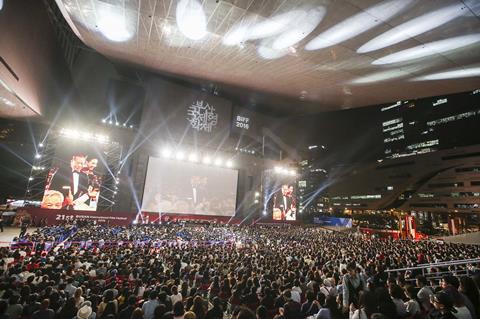 The Korean Film Council (Kofic) has made a public apology to film professionals and the citizens of South Korea for carrying out blacklisting orders during the past two governments,announcing an organisational overhaul and new initiatives.
"We will sharply reflect upon and sternly reform ourselves," said chairman of the government-funded film promotion organisation Oh Seok-geun at a press conference today in Seoul.
Appointed in January, the filmmaker-turned-administrator made public 56 counts of Kofic's blacklisting involvement during the Lee Myung-bak and Park Geun-hye administrations. The revelations came after an internal probe by special prosecutors, the Board of Audit and Inspection of Korea, and the Ministry of Culture, Sports and Tourism's committee to investigate artist blacklisting.
The 56 cases included pressuring and then cutting financial support for arthouse cinemas and the Busan International Film Festival after they screened films deemed unfavorable by the government, dropping support for organisations that participated in candlelight protests, and excluding support from films with certain themes, such as director Park Jung-bum's Alive.
One of the more notable items was the 2015 exclusion of development funding for a project by director Park Chan-kyong because he was the "younger sibling of director Park Chan-wook, a supporter of the opposition party" and for his own progressive tendencies. The order is noted to have come from the president's office.
New focus
Kofic also announced an overhaul of the organisation, with old guard moved from key positions and replaced with younger employees. There has also been an emphasis on promoting women, some of them the first female heads of departments.
In addition, they announced the results of a "future planning" task force that proposes, among other things, to cease Kofic's investment in commercial films through the controversial Fund of Funds and take that $9.4m (KRW10bn) budget to support low and mid-budget films through completion bonds and other means.
The council also announced they will be working on creating an Asian film promotion organisation to overcome the South Korean market's "saturation", increase co-productions "beyond China" and promote policy exchange and co-operation between Asian governments to establish a common market to "stand up to" Hollywood films.