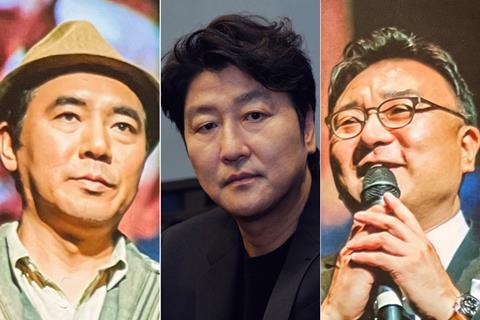 Former Warner Bros Korea Local Production head Jay Choi has formed a production company with director Kim Jee-woon and Parasite star Song Kang-ho, Anthology Studios, which has immediately been snapped up by cable broadcaster JTBC Studios.
Speaking to Screendaily, Choi said: "The JTBC Studios deal happened before we were even properly set up to announce the new company.
"We will be a part of the JTBC family now, but fundamentally, Anthology Studios is co-founded by director Kim Jee-woon, who will be doing all his films here from now on – whether we are the main producer or co-producer – me as CEO, and actor Song with whom we are, of course, preparing projects."
The power trio of Choi, Kim and Song have previously worked together on critically-acclaimed hits The Age Of Shadows, which premiered at Venice in 2016, and The Good, The Bad, The Weird, which premiered in Cannes in 2008. They are also known to have been on former South Korean president Park Geun-hye's blacklist of culture industry figures together.
Kim and Choi also worked together on horror film A Tale Of Two Sisters (2003), and Song has starred in other films directed by Kim such as The Quiet Family (1998) and The Foul King (2000).
The top actor also starred in films that Choi invested in and/or produced such as Bong Joon Ho's Memories Of Murder (2003) and Yang Woo-suk's The Attorney (2013).
"We got together and said, 'We're elder brothers in this industry now, let's do some meaningful films'. So we'll be doing our own films but also, we'll be looking for rookie directors whom director Kim will mentor creatively and I'll be supervising so we can help launch them in the industry. As much as possible, we'll be co-producers on their projects," added Choi.
JTBC Studios, a publicly traded company, has registered with South Korea's Financial Supervisory Service that it is set to acquire Anthology Studios for $18.1m (KW20bn) as of March 30, 2021, with Choi, Kim and Song each getting a share of this amount. JTBC Studios has already put down a 7% deposit with the rest to be paid in full on the deal closing date.
With the coronavirus pandemic on-going, Choi is circumspect about productions in their first year but says he expects they will be able to start production on at least two projects – a film with Kim Jee-woon and a TV series, both yet to be confirmed. He is also fielding proposals from US companies about working on TV series together.
Anthology has hired The Age Of Shadows producer Choi Jeonghwa as head of production. He is also president of the Producers' Guild of Korea (PGK).