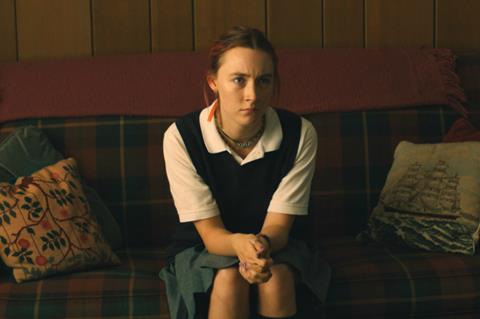 The New York Film Critics Circle (NYFCC) showered love on A24's dynamic duo Lady Bird and The Florida Project on Thursday (November 30).

The group named Lady Bird best film and Saoirse Ronan best actress after her recent best actress win at the Gothams. Sean Baker was named best director for The Florida Project and Willem Dafoe picked up his second supporting actor prize of the week after the National Board Of Review announcement.
Timothée Chalamet from SPC's Call My By Your Name won the best actor award, capping a fine couple of weeks for the youngster following breakthrough actor wins at the National Board of Review and Gothams, and an Indie Spirit male lead nomination.
The group's one left-field decision was to award Tiffany Haddish from Universal's Girls Trip the best supporting actress. Paul Thomas Anderson's screenplay win for late-arriving Phantom Thread from Annapurna Pictures and Focus Features follows the National Board Of Review accolade this week.
The Orchard's French Oscar submission BPM (Beats Per Minute) was named best foreign-language film, while Pixar's Coco took animation honours, and Cohen Media Group's Faces Places by JR and Agnes Varda was named best documentary.
Full list of NYFCC winners:
Best picture: Lady Bird
Best director: Sean Baker, The Florida Project
Best screenplay: Paul Thomas Anderson, Phantom Thread
Best actress: Saoirse Ronan, Lady Bird
Best actor: Timothée Chalamet, Call My By Your Name
Best supporting actress: Tiffany Haddish, Girls Trip
Best supporting actor: Willem Dafoe, The Florida Project
Best Cinematographer: Rachel Morrison, Mudbound
Best Animated Film: Coco
Best non-fiction film (documentary): Faces Places
Best foreign language film: BPM (Beats Per Minute)
Best first film: Jordan Peele, Get Out
Special Award: Molly Haskell, career achievement.