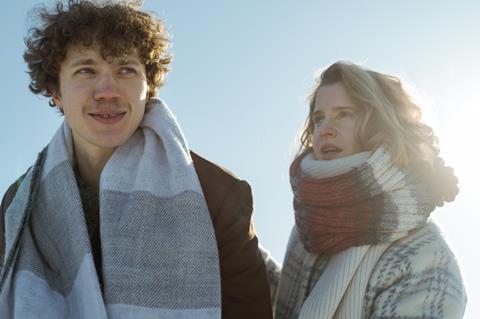 Latvian coming-of-age story January has won international narrative feature at Tribeca 2022 while Mexican filmmaker Michelle Garza Cervera was named best new narrative director.
Viesturs Kairiss' Latvia-Lithuania-Poland January follows an aspiring filmmaker as he discovers his identity against the backdrop of Latvian independence. Kārlis Arnolds Avots and Alise Danovska star.
Huesera stars in the story of a woman who experiences extreme visions after becoming pregnant. XYZ Films handles worldwide sales on the horror and as Screen reported last week the feature debutante has lined up to direct That Summer In The Dark (Ese Verano a Oscuras) for El Estudio, Morbido and Vision Entertainment. In another coup for Cervera she won the Nora Ephron Award.
Good Girl Jane by Sarah Elizabeth Mintz was named best US narrative feature and stars Rain Spencer, Patrick Gibson and Andie MacDowell in the story of alienated high school student who falls in with the wrong crowd.
The prize for best international screenplay for a narrative feature went to Martín Boulocq and Rodrigo Hasbún for Bolivian-Uruguayan redemption drama The Visitor, while Jan Mayntz claimed the cinematography prize for German-Romanian drama We Might As Well Be Dead and Dorota Pomykala won best performance in an international feature for Woman On Aa Roof from Poland, France and Sweden.
Returning to the US narrative feature section, Ben Snyder and Elizabeth Rodriguez claimed screenplay honours for dramedy Allswell, Azuli Anderson was named best cinematographer for genre title Next Exit and the performance prize went to Rain Spencer for Good Girl Jane. There was a special jury mention for Liz Carbel Sierra in dark comedy God's Time.
In the documentary competition the feature and editing awards went to The Cave Of Adullam and best cinematography was presented to The Wild One. The Albert Maysles Award for Best New Documentary Director went to Edward Buckles Jr. for Katrina Babies.
Tribeca Festival said most of the winners will screen via the festival's Tribeca At Home streaming platform through June 26. The festival runs through June 19.
Audience Award winners (announced June 19):
Narrative
Our Father The Devil, directed by Ellie Foumbi
Second Place: Wes Schlagenhauf Is Dying, directed by Parker Seaman
Documentary
The Cave Of Adullam, directed by Laura Checkoway
Second place: LIFT, directed by David Peterson
Online
Cherry, directed by Sophie Galibert
Second Place: In Her Name, directed by Sarah Carter.