Lawrence Jackson / The White House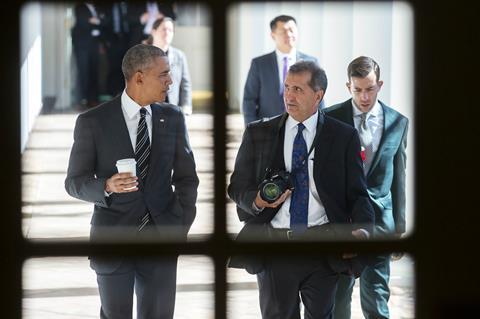 Focus Features will produce a documentary about former chief official White House photographer Pete Souza, who worked during the Barack Obama and Ronald Reagan administrations.
Dawn Porter (Gideon's Army, Bobby Kennedy For President, the upcoming film Good Trouble about Congressman John Lewis) will direct and produce the film about the prolific and outspoken photojournalist. Evan Hayes (Free Solo) will produce under his ACE Content alongside Laura Dern (Marriage Story) and her Jaywalker Pictures partner Jayme Lemons, in association with Platform One Media.
Focus Features will handle North American distribution on the film, and Universal Pictures International will distribute around the rest of the world.
Over the course of his assignments covering two administrations, Souza gained unprecedented access to presidencies on both sides of the political spectrum. His work led him to explore the notion of leadership, and today Souza uses his art as commentary on how the US has evolved as a country and where it might be headed. The film will feature previously unseen behind-the-scenes photographs.
"For eight years during the Obama presidency, I was inside the room where it happened," said Souza. "My job was to visually document his presidency, making more than 1.9m photographs for the historical record. But I also strived to capture the fleeting moments of president Obama's life to show what he was like as a human being.
"On January 20, 2017, I left the White House and resumed my most important role in life – citizen. And it's as citizen that I have chosen to speak out, using my photographs as commentary of where we were and how that contrasts with where we are today."