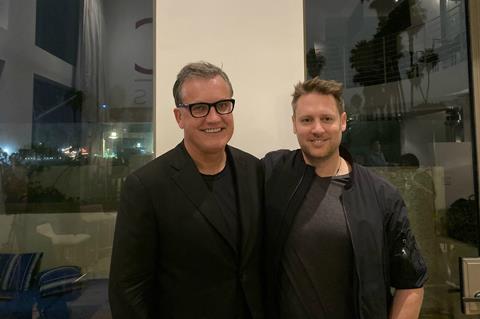 AGC Studios has reported strong sales at AFM on its upcoming sci-fi thriller Inferno, one of the major draws of the market that has Neill Blomkamp on board to direct.
Rights have closed in the UK (Entertainment Film Distribution), France (Metropolitan), Germany and Switzerland (Leonine), Latin America (Sun), South Korea (Joy N Content), Spain (Tripictures), Middle East (Selim Ramia), and Portugal (Nos Lusomundo).
Further deals closed in Russia (Top Film), Eastern Europe (Vertical Entertainment), Singapore (Clover), Israel (United King), Taiwan (Movie Cloud), Thailand (Sahamongkolfilm), Indonesia (T Primera), Philippines (Pioneer), Vietnam (Noori Pictures), Greece (Odeon) and Turkey (BG Film).
Negotiations are ongoing in remaining territories.
Blomkamp outlined his vision to buyers at the market last week (November 6, pictured), and added a second presentation after the first session last Wednesday was packed out and dozens of buyers were unable to get inside the AGC Studios offices.
Taylor Kitsch will play a police officer investigating a murder case whose wife gets kidnapped. AGC Studios has positioned the film as a highly commercial tentpole.
"It takes a giant galactic idea and pares it down to a murder mystery," Blomkamp told Screen last week. The South African filmmaker revealed that after he spent time preparing Alien 5, which ultimately did not move ahead, he became fascinated by the police procedural genre, and wanted to steer towards "more cerebral, philosophical films" shrouded in danger. He cited Prometheus and The Silence Of The Lambs as tonal reference points.
Inferno is out to casting, and Blomkamp and AGC Studios head Stuart Ford are eying a March 2020 start in Albuquerque, New Mexico.