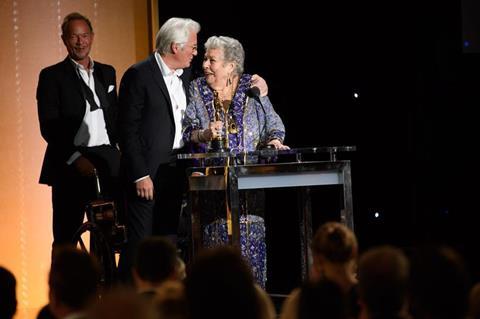 Anne V. Coates, the Oscar-winning editor of David Lean's Lawrence Of Arabia who earned four other Academy Award nominations, has died. She was 92.
Coates, who died on Tuesday in the Los Angeles area, earned nods for Becket, The Elephant Man, In The Line Of Fire and, most recently, Out Of Sight.
She was born on December 12 1925 in Surrey and embarked on a distinguished career after Lean's cinematographer Ronny Neames spotted her work on Pickwick Papers and landed her the Lawrence Of Arabia job.
Speaking of that assignment to Screen in late 2016, Coates said, "I don't think anybody realised what an exceptional film it was. We thought it was very good and the dailies were great but you got spoiled with those wonderful images – David knew how to shoot against a big background."
One of her last films was Fifty Shades Of Gray, of which she said: "I wanted to make Fifty Shades sexier. I came up with some great ideas and they were worried they wouldn't get an R!"
Coates' work garnered career accolades such as an honourary Oscar in 2016, the BAFTA Fellowship in 2007, and the Los Angeles Film Critics Association's career achievement award in 2015.
She was married to the late director Douglas Hickox and leaves behind three children, all of whom are in the film business.