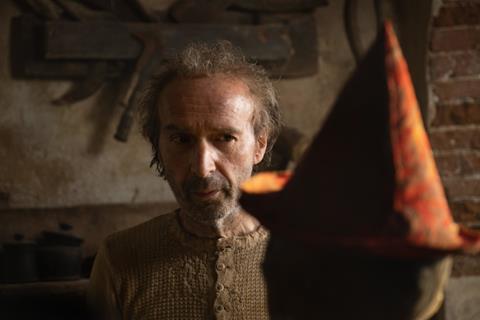 Paris-based distributor Le Pacte has sold French rights for Italian director Matteo Garrone's Pinocchio to Amazon Prime Video, after being forced to delay a planned wide theatrical release due to the Covid-19 lockdown in France.
It is a significant and rare move for the French distributor, which had been due to launch the film across France on March 18, to coincide with the midterm school holiday period.
Le Pacte hastily pulled the release on March 6 as the Covid-19 outbreak intensified in the country. On March 14, French cinemas were ordered to shut alongside all non-essential public spaces.
The company was unable to pull its advertising campaign, however, which meant buses, kiosks and cinemas were plastered with posters for the film.
A tentative new release date was set for July 1 but uncertainty continues over whether cinemas will have reopened in France by then. Under a French government strategy to ease lockdown restrictions announced on April 28, no decision is expected on cinemas at least until June 2.
Le Pacte founding chief Jean Labadie said the deal with Amazon had been one of financial necessity.
"We have no visibility on the reopening of cinemas and its seems likely that it will be limited this summer," he told Screen. "We already spent our release budget and delaying it until September is not economically viable for us. We can't spend the necessary amount required to release a film like Pinocchio twice."
Garrone's live-action retelling of Carlo Collodi's children's story starring Roberto Benigni grossed close to $17m in Italy and was expected to do well in France.
Under the Amazon Prime Video deal, it will be available to the platform's French subscribers as of May 4.
Lebadie was a producer on Pinocchio alongside Le Pacte managing director Anne-Laure Labadie, director Garrone under his Archimede banner, Paolo Del Brocco at Rai Cinema and Jeremy Thomas at the Recorded Picture Company, in association with the Leone Film Group.
Le Pacte had a number of films in cinemas or on the verge of release when cinemas were ordered to close on March 14.
The company has opted for early VOD releases for a handful of the released films – including Stéphane Demoustier's The Girl With A Bracelet, Hirokazu Kore-Eda's The Truth, Alejandro Landes' Sundance special jury award winner Monos, and Todd Haynes's Dark Waters.
This was made possible after France's National Cinema Centre (CNC) was granted emergency powers to allow distributors to collapse the country's strict media laws for films on release when the lockdown began. There is usually a four-month window between theatrical and VOD releases.
Labadie, who is a tough-talking advocate of the theatrical experience and France's media chronology, told Screen at the beginning of the lockdown that releasing films on VOD in the territory would never make up for box office losses, mainly due to the issue of piracy in France which kept returns low.
He indicated at the time that he would rather opt for an SVOD deal as way to recoup on bigger investments.
Other upcoming titles on Le Pacte's theatrical distribution slate include Jean-Paul Salomé's Mama Weed, starring Isabelle Huppert, which was due out on March 25, Haifaa Al Mansour's The Perfect Candidate and Rodrigo Sorogoyen's Madre. Labadie said there were no plans to do SVOD deals on any other Le Pacte titles at this time.
He said he remained confident that the French theatrical market would bounce back when cinema theatres eventually reopened.
"We have a lot of French films that we will re-date when we have a bit more clarity," he said.