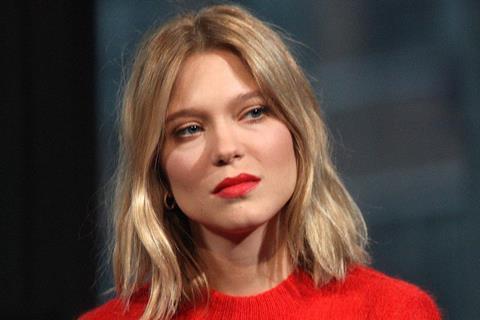 French actor Léa Seydoux will not travel from Paris to Cannes to promote her four films at this year's Cannes Film Festival, following her positive Covid-19 test that was reported at the weekend.
In a statement issued today (July 14), Seydoux said,
"Sadly, I have to self-quarantine in Paris and won't be able to attend the Cannes Film Festival this year. I wish I could celebrate the return of cinema to my favorite festival, but it is in everyone's best interest to err on the side of caution and do my part to keep everyone safe and healthy. I applaud all four of my directors and the cast ensembles for their remarkable achievements. From a distance and in thoughts, I am with you with all my heart."
Seydoux had already missed the premieres of Wes Anderson's The French Dispatch in Competition on Monday, and Arnaud Desplechin's out of Competition title Deception on Tuesday.
She had hoped to make it to the festival at some stage this week; however she will now also miss premieres for Ildiko Enyedi's The Story Of My Wife this evening (Wednesday 14) and Bruno Dumont's France on Thursday 15 – both Competition titles.
News of Seydoux's positive test, taken in Paris, broke on Saturday, July 10. She was asymptomatic and tested negative the following day; however French Covid rules require 10 days of self-isolation after a positive test. The actor will complete her self-isolation in Paris.
Later this year she will be seen in the long-delayed No Time To Die, the 25th film in the James Bond series, reprising her role as psychiatrist Dr. Madeleine Swann.
She was awarded the Palme d'Or at Cannes for Blue Is The Warmest Colour in 2013, alongside fellow actor Adèle Exarchopolous and director Abdellatif Kechiche.