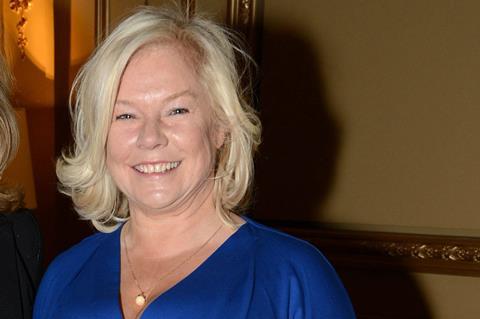 UK producer Alison Owen has spoken out about "inequality" in rates of pay offered to male and female film executives.
Owen, joint managing director of Monumental Pictures with Debra Hayward, made her remarks after delivering the keynote address at Film London's Production Finance Market (taking place today and tomorrow, Oct 7-8 at the Institute of Directors in Pall Mall).
"It has always struck me that people I would have thought were the same level as me in my pay scale, you find the guys are being paid considerably more," Owen said. She wouldn't be drawn on specific examples, but suggested the pay rates were now, at last, beginning to even out.
"I know [pay disparity between genders] has always existed but it is has started to change which is fantastic," she said. "People will always pay less if they think the can get away with it."
Owen, whose many credits include Hear My Song, Elizabeth, Tamara Drewe, Jane Eyre and Suffragette, also pointed to the difficulty female directors have in sustaining feature film careers if their first movies aren't immediate big hits.
During a wide-ranging discussion on stage with Film London's CEO Adrian Wootton and in an interview with Screen, Owen cited the example of the 20-year gap in feature directorial assignments for Coky Giedroyc, with whom she collaborated on new comedy, How To Build A Girl.
Despite many TV credits, Giedroyc hadn't made a feature since 1999's Women Talking Dirty. Male directors, she suggested, would have been given far more chances to make further movies.
"I love Coky. I felt that Coky should have made more movies and had has been the victim of general sexism within the film industry. We definitely wanted a woman to direct How To Build A Girl," Owen said.
"Certainly my experience in the film industry has shown that even if you did get to make a movie as a woman in the 80s or early 90s, that was it," Owen clicked her fingers to show how women's careers stalled if films didn't turn into huge successes. "Whereas that would not have been the same for a guy. [A guy] would have been allowed to build a career."
Amy Winehouse biopic
Speaking after the keynote, Owen also revealed further details of the eagerly anticipated new Amy Winehouse biopic she is preparing.
She said the tone of the film would be very different to that found in Asif Kapadia's awarding-winning feature documentary, Amy (2015). The project, backed by Studiocanal, is at script stage.
"I am a huge Amy Winehouse fan. I think she was a once in a generation talent, like Ella Fitzgerald or Billie Holliday," Owen said of Winehouse, whom she met several times. Owen said Amy's father, Mitch Winehouse, is supportive of the film.
Owen met Amy through her daughter, Lily Allen, who made her name as a pop star at the same time. "Lily was often performing at the same places as Amy so we were often waiting in the wings together," Owen explained. " Amy was an incredibly kind person and an incredibly colourful person. I was always struck by her generosity."
Amy has not yet been cast but Owen said the role was "quite likely" to go to a "newcomer" as the film will be covering Winehouse from the age of 17 to 27, the time when she died tragically young in 2011.
"I can't off the top of my head think of an A-list star who would fit the mould creatively," Owen said, raising the prospect of now launching a Scarlett O'Hara-like "worldwide search for someone to play Amy."
Asked how the new movie will compare to the Kapadia documentary, Owen said: "our vision for it is to celebrate Amy's talent rather than to look for the fatal flaw of why what happened happened. I feel that there's a tendency, particularly with female artists, to look for the tragedy. Artists like Janis Joplin, Judy Garland, Billie Holiday, all people remember is the tragedy. I don't think that happens with male artists nearly so much."
Owen's film will instead focus on "the good side of Amy's talent, the wonderful songs and the wonderful fun and vibrancy of Camden at that time, the extraordinary fun she had at the beginning…of course, you can't ignore the fact it all went horribly wrong but you don't have to focus on that, just as Bohemian Rhapsody didn't focus on Freddie Mercury's HIV and AIDS."
Funding struggles
One striking observation Owen made during her keynote speech was that it was easier to get independent UK films financed at the start of her producing career in the early 1990s than it is now, a striking assessment given that no equivalent to the UK film tax credit was in place then.
'"It is getting harder and harder all the time," Owen said. "It is getting harder to get the sales figures, it is harder to raise the money, it is harder to get the audiences into the cinemas."
Owen produced her first feature Hear My Song in a period in the early 1990s when Channel 4, under David Rose, and British Screen, under Simon Relph, were supporting new talent.
"It would be much harder now to do," she said of the way she financed her early projects. "There may now be more soft money and fiscal incentives in place but that doesn't necessarily make the producing any easier. Certainly the tax credit is a huge help but you've still got to find the rest of the money. The problem with the tax credit in any country is that your other sources of finance are always going to adjust. They will try to take advantage of the tax credit rather than the producer. Their advances will tend to go down in accordance with the tax credit going up… the struggle for the producer is always trying to get the benefit of the tax credit rather than the tax credit going elsewhere."