New films by Vitaly Mansky, Alexandru Belc and Joseph Gordillo are among the world premieres in competition at this year's DOK Leipzig (Oct 26 - Nov 1).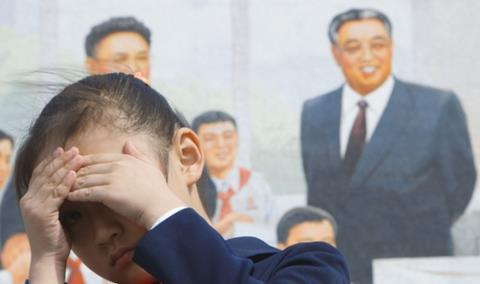 Mansky's Russian-German-Czech-North Korean co-production Under The Sun, about the everyday life of a North Korean family, will compete in the festival's international competition for feature-length documentaries and animation films with such films as Alexander Sokurov's Venice title Francofonia, Wojciech Staron's Brothers, Roberto Minervini's The Other Side and Anca Damian's animation The Magic Mountain. .
Greek filmmaker Maria Economou's The Longest Run, about the fate of two young refugees picked up at the Greek border and the festival's opening film, Time Will Tell by Andreas Voigt, are the other two world premieres apart from Mansky's film.
German competition
New documentaries by Mario Schneider (Naked Beauty), André Schäfer (Herr von Bohlen) and Tom Lemke (Land on Water) are among the films to receive their world premieres in the German Competition for Feature Length Documentaries and Animation Films.
Leipzig will also present Matthias Koßmehl's Cafe Waldluft, which depicts a clash of cultures in a home for asylum seekers, and Hristiana Raykova and Lisa Block's Kings, delivering a portrait of homelessness in Germany's urban canyons.
Next Masters
Romanian filmmaker Alexandru Belc's Cinema, Mon Amour, Joseph Gordillo's Brumaire, Jean-Francois Lesage's A Summer Love and Klára Trencsényi's Train To Adulthood will receive their world premieres in the newly renamed Next Masters competition (previously known as the competition for young cinema).
As one of several innovations this year, the winner of the ¨Next Master¨ Golden Dove will be decided by the British artist John Smith, who is the subject of the festival's Homage.
He will select from 13 nominated titles, which also include Mark Aitken's Dead When I Got Here and Mohammedreza Farzad's Wedding: a Film at the festival
Innovations
For the first year under the artisitic direction of Leena Pasanen, DOK Leipzig will show 162 films from 50 countries in its Official Selection, doing away with the strict division between documentary and animated films in the programmes.
In addition, the short film is gaining significance at this year's edition, with two more Doves dedicated to the short form for an outstanding artistic achievement in the German and International Competitions.
Industry programme
Around 400 professionals are accredited so far for the festival's industry programme of workshops, discussions and screenings, DOK Industry.
They include such sales agents as First Hand Films, Wide House, Dogwoof, Rise & Shine, Slingshot Films, Autlook Film Sales, producers ma.ja.de, Gebrüder Beetz Filmproduktion, Exit Film, Kloos & Co. Medien as well as institutions ranging from Sundance Institute, Kickstarter and Berta DocHouse to Tribeca Institute, Under The Milky Way, ARTE, and festival representatives from Edinburgh, Krakow, Ecuador, Ukraine, among others.