The 10th edition of the Les Arcs Film Festival has selected its crop of work in progress projects.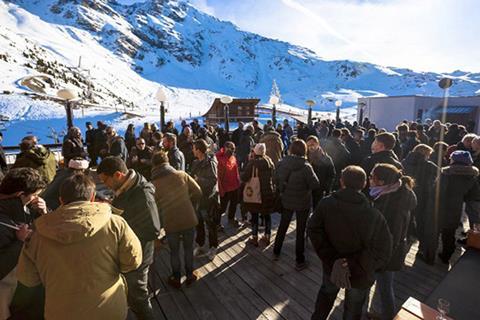 The festival unveiled its co-production project selection and inaugural Talent Village last week.
Completing this year's Industry Village are 15 projects, all of which are in post-production and do not yet have sales agents attached.
They include new projects from director Babis Makridis, whose Pity premiered at Sundance this year, Damjan Kozole, whose Nightlife won best director at Karlovy Vary in 2016, and Levan Akin whose The Circle was a 2015 Berlinale selection.
The event will also screen scenes from Grímur Hákonarson's Rams follow-up The County to celebrate the 10th edition of Les Arcs. Hákonarson's Rams, which became a festival hit, was presented at Les Arcs' co-production event in 2013 and the work in progress programme a year later.
There are two awards on offer. for this year's films. Five projects (Atlas, Birds, Homeless, White On White, Willow) are eligible for the €50,000 Eurimages Lab Project Award, which aims to recognise innovative content, and the remaining projects will compete for the TitraFilm Prize, which comes with €10,000 worth of post-production services.
This year's jury is comprised of Gaia Furrer (director of programming at the Giornate Degli Autore of the Venice Days), Trevor Groth (30West) and Alex Traila (Sarajevo Film Festival, foreign relations at the Romanian Film Centre), who will be the Eurimages representative. Les Arcs artistic director Frédéric Boyer selected the 15 projects from more than 130 submissions.
Of the projects chosen, three are directed by women (20%) – the submissions were from 32% women directors and 68% male.
The films will screen footage on Sunday, December 16, and the awards ceremony will take place on Monday, December 17.
Last year's work in progress winner in Les Arcs, Lukas Dhont's Girl, won four awards at this year's Cannes Film Festival and is Belgium's submission for the foreign language Oscar race.
Work in progress selection:
And Then We Danced by Levan Akin, produced by French Quarter Film (Sweden), Takes Film (Georgia)
Atlas ** by Niccolò Castelli, produced by Imagofilm Lugano (Switzerland), Climax (Belgium)
Berliner by Marian Crișan, produced by Rova Film (Romania)
Birds by Babis Makridis, produced by Neda Film (Greece) for the Onassis Foundation
Half-Sister by Damjan Kozole, produced by Vertigo (Slovenia), Film House Bas Celik (Serbia), Propeler Film (Hungary), Sister And Brother Mitevski Production (Macedonia)
Hide And Seek by Victoria Fiore, produced by My Accomplice (United Kingdom), Bronx Film (Italy)
Homeless * by Xesc Cabot & Pep Garrido, produced by Alhena Production (Spain), Atiende Films (Spain)
Interior ** by Marek Lechki, produced by Telemark (Poland), Heliograf (Poland), Kineskop (Poland), Monternia (Poland), Toof (Poland)
System Crasher * by Nora Fingscheidt, produced by Weydemann Bros. Gmbh (Germany), Kineo Filmproduktion (Germany), Oma Inge Film (Germany)
The Castle ** by Lina Lužytė, produced by Artbox (Lithuania), Samson Films (Ireland)
The Disciple ** by Ivan Ostrochovský, produced by Punkchart Films (Slovakia), Film & Music Entertainment (Ireland), Negativ Ltd. Film Productions (Czech Republic), Point Film (Romania)
The Last Ones by Veiko Õunpuu, produced by Homeless Bob Production (Estonia), Bufo (Finland), PRPL (Netherlands)
Variations * by João Maia, produced by David & Golias (Portugal)
White On White ** by Theo Court, produced by El Viaje Films (Spain), Pomme Hurlante Films (France), Kundschafter Films (Germany), Don Quijote Films (Chile)
Willow by Milcho Manchevski, produced by Banana Film (Macedonia), Pioneer Pictures (Hungary), Saga Film (Belgium), Tirana Film Institute (Albania)
* First feature film projects
** Second feature film projects
In partnership with Flanders Image, two projects with sales agents already attached will be screened during the session, out of competition.
They are:
Patrick by Tom Mielants, produced by Savage Film, sold by Beta Cinema
Rain Anyway by Gust Van den Berghe, produced by Minds Meet, sold by Coproduction Office