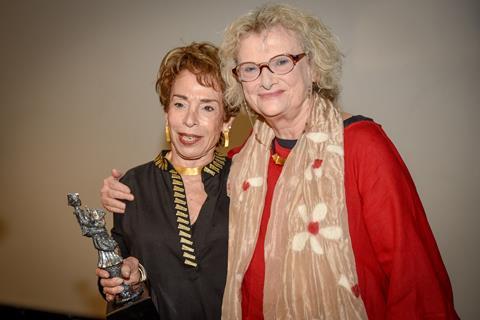 Haifa International Film Festival feted Israeli distributor and Lev Cinema chain founder Nurit Shani with a career achievement award for her contribution to the distribution of arthouse film in Israel on Wednesday (Oct 11).
The veteran exhibitor and distributor, who opened the first Lev Cinema in Tel Aviv in 1981, is credited by many with shaping the arthouse film tastes of generations of Israeli cinemagoers.
"The original seed for Lev came from my husband Issac Shani (aka Yitzhak Shani). He was a leading Israeli film producer and wanted screens for his movies as he didn't like being so dependent on others for exhibition," she explains.
Her husband produced a string of popular films during the 1970s and '80s, including a number of works by actor-director Assi Dayan such as 1976 cult Israeli comedy Halfon Hill Doesn't Answer. But beyond these productions, the couple found it hard to secure other titles, especially international ones, for their fledgling theatre.
"Israel had a very closed market at the time so in order to pursue our passion for independent and arthouse cinema, we decided to set up a distribution wing for the company," explains Shani.
Acquisitions in those early years included Sophie Marceau-starrer La Boum (1980), Theodoros Angelopoulos's The Beekeeper (1986), Jim Jarmusch's Down By Law (1986) and Mike Figgis's Stormy Monday (1988). "Cannes and Berlin were important for us from the beginning and Mifed was also central," she recalls, referring to Milan's now defunct film market.
The creation of Lev Cinema also fed into Shani's personal passion for film education. "My background was in education and theatre and I did my master's degree in cinema. So, from the very beginning, I established an educational programme where schools from all over the country were invited to visit Lev to learn about cinema," she says.
Quizzed about her most significant releases over the last 35 years, Shani names Daniel Vigne's 1982 costume drama The Return Of Martin Guerre starring Gérard Depardieu. "It broadened the appeal of French cinema from just the cinématheque crowd to a far broader population – the Israeli audiences developed a real taste for it."
"It was films like these that set the tone and future direction for Lev, that of bringing the best of world cinema to Israel. We also brought great independent American cinema to Israel with titles like The Shawshank Redemption and Down By Law," she adds.
Anti-censorship
Along the way, Shani also courted controversy, most notably with her decision to release Oliver Hirschbiegel's Downfall, starring Bruno Ganz as Adolf Hitler, in 2005. The feature was criticised by some in Israel for the way it humanised Hitler but Shani, who is fiercely anti-censorship, arranged a series of test screenings to gauge the response of local audiences and pushed on with the release.
This fearless independent spirit continues on at the company, which is now run by Shani's son Guy, who took over its management a decade ago. Lev's current slate includes Samuel Maoz's Venice grand jury prize winner Foxtrot, which has been slammed by culture minister Miri Regev for its portrayal of Israeli soldiers. The film has drawn nearly 100,000 admissions in its first three weeks on release in Israel.
"It has touched a raw nerve in Israeli society and generated an enormous amount of debate and strong feeling. I am so proud to be involved with the film, which raises so many important issues, and excited to release it in Israel," says Guy Shani.
Expansion
Under his management, the Lev Cinema has grown from a two-screen cinema in Tel Aviv to the leading independent arthouse chain in Israel, releasing around 34 titles a year for a 10% box-office share. The company also has its own cinema-focused TV channel.
"We now have ten locations including Tel Aviv, Jerusalem and Herziliya. In the past few months, we have opened the Lev Ranana and re-opened Lev Smadar in Jerusalem," continues Guy Shani. "We find that there is great appetite for not only good cinema but a more boutique, bespoke cinemagoing experience which is more intimate and less generic than that offered by the megaplexes."
Like his mother, Shani takes pride in the pictures Lev has brought to the big screen in Israel, including 12 Years A Slave, The Artist, The King's Speech, The Hurt Locker, Slumdog Millionaire, A Separation, Amour, Son Of Saul, Ida, The Great Beauty and, more recently, Maysaloun Hamoud's In Between, the tale of three young Palestinian women living in Tel Aviv which drew 120,000 admissions in Israel.
Upcoming Lev releases include Palme d'Or winner The Square, Golden Bear winner On Body And Soul and Loveless. But while the business continues to grow, Guy Shani admits it can be a tough ride for all independents these days: "There is much more competition not only domestically but also now internationally by giant corporations which seek to buy the global rights for arthouse and independent films. This makes it increasingly difficult for all independent distributors."