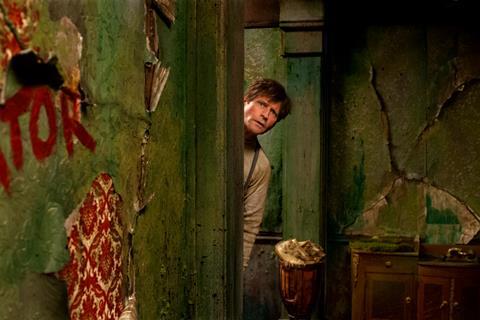 LevelK has boarded world sales on Dutch drama Mr. K starring Crispin Glover, which has wrapped filming and is now in post-production.
Back To The Future star Glover plays the eponymous character, a travelling magician who finds himself in a Kafkaesque nightmare when he can't find the exit of the hotel he just slept in. His attempts to get out only entangle him further with the hotel and its curious inhabitants.
LevelK has released a first look at the film, above. Paradiso will release the title in Belgium.
Written and directed by Tallulah Schwab, Mr. K is a co-production between the Netherlands' Lemming Film, Belgium's A Private View, the Netherlands' The Film Kitchen, Norway's Take Film 53 and the Netherlands' AVRO/TROS. Producers are Erik Glijnis and Leontine Petit, Dries Phlypo, Judy Tossell, Jan van der Zanden and Ineke Kanters, and Turid Oversveen.
Cast alongside Glover are Sunnyi Melles, who recently had a memorable role as a guest on the Triangle Of Sadness mega-yacht, Fionnula Flanagan, Bjorn Sundquist, Dearbhla Molloy, Barbara Sarafian and Sam Louwyck.
Backing on the film comes from the Netherlands Film Fund, The Netherlands Film Production Incentive, CoBO Fund, AVRO/TROS, Creative Europe, LevelK, Eurimages, Screen Flanders, Flanders Audiovisual Fund, Belgian Tax Shelter and Norsk Filminstitut.
"What I have been exploring in Mr. K is the way we try to mould reality into something we can control and understand," said Schwab. "How we protect the status quo by surrounding ourselves with others who share our view, making the world bite size and relatable."
"Mr. K is simultaneously bizarre and touching; dark and playful," said Glijnis on behalf of the producers. "Tallulah's vision is refreshingly original and boldly cinematic and she has gathered a superbly rich cast as well as incredible talents around her such as director of photography Frank Griebe (Run Lola Run, Cloud Atlas) to bring this vision to life. We are thrilled with the results and excited to see the film taking shape over the next months."
Run by CEO-producer Petit and producers Glijnis and Tom van Blommestein, Lemming Film has co-produced several breakout hits from the festival circuit in recent years, including Yorgos Lanthimos' The Lobster, Alejandro Landes' Monos and Ninja Thyberg's Pleasure.