Ben Gibson, former director of the London Film School (LFS), is set to become the first non-German director of Berlin's German Film & Television Academy (dffb).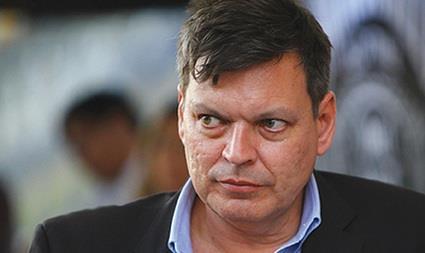 Gibson was selected by the appointments committee over rival applications by filmmakers Bela Tarr and Romuald Karmakar, producer Dagmar Jacobsen and Pavel Jech, currently Dean of Prague's FAMU, as the successor to the previous director Jan Schütte.
Gibson left the LFS last year after 13 years as director to become director of degree programmes at the Australian Film, Television & Radio School (AFTRS) in Sydney.
Gibson is no stranger to the dffb having recruited the Berlin academy as one of the European partners in the Making Waves distribution and marketing workshop with Paris' La Fémis, Barcelona's ECAC, and Romania's UNATC.
During his time at LFS, Gibson collaborated with the dffb on the Serial Eyes postgraduate high-level TV series writing and producing programme, launched in January 2013.
Funded by the EU's Creative Europe MEDIA, the programme was developed by dffb in cooperation with the LFS and the National Film School in Denmark.
The third intake for this intensive eight-month full-time course last month has participants from Germany, the UK, Croatia, Russia, Italy and France.
A statement signed by dffb lecturers, including producers Peter Rommel and Gerhard von Halem, directors Andres Veiel and Connie Walter and screenwriter Jochen Brunow, said that Gibson was "an outstanding personality of European filmmaking (…) who is befitting for the importance of the dffb for Berlin and German filmmaking."
"With the new director, we are expecting further development of the dffb's special possibilities as an academy and an enhancement of its profile. Welcome in Berlin and at the dffb, Ben Gibson."
The academy will celebrate its 50th year of operation in 2016.
Student protests
However, the teaching staff's statement has raised the ire of the students' council who criticised the lecturers for jumping the gun before the Academy's board of trustees makes its official decision on the appointment this Friday (Oct 23).
They suggested this action would influence the board's influence "in a questionable manner" and "expose the integrity of the dffb to great danger".
"The student body distances itself from the attempt to already declare Ben Gibson as the director and announces further action," the students concluded in what is the latest chapter of worsening relations between the teaching staff and their students.
Past students at the dffb have included Wolfgang Petersen, Detlev Buck, Helke Sander, Christian Petzold, Raoul Peck and Chris Kraus.