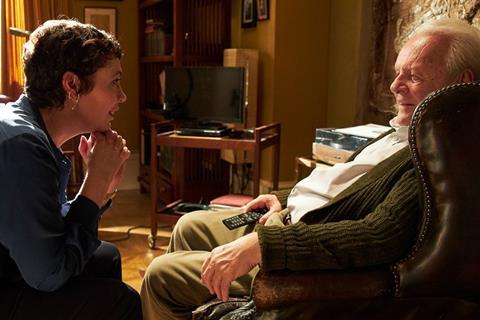 The Telluride Film Festival, which was supposed to run September 3-7 but was cancelled due to Covid-19, has revealed the films that would've been selected this year.
"Though we aren't able to present our program in-person as planned, we still want to announce the lineup to bring attention to these brilliant films," said Telluride executive director Julie Huntsinger. "We've listed everything we know about screening opportunities so that audiences may watch as many of these films as possible. The festival will continue to do everything in its power to champion and promote this artform and the people who create it."
The lineup includes 29 features from 25 countries, and features several titles also selected for Toronto (including Francis Lee's Ammonite and Florian Zeller's The Father), and Venice (Roger Michell's The Duke, Quentin Dupieux's Mandibules and Gianfranco Rosi's Notturno). Telluride will also host a Los Angeles drive-in screening of Chloe Zhao's Nomadland as part of its partnership with Venice and TIFF.
Telluride has revealed the winners of its 2020 Silver Medallion Awards: Zhao, Anthony Hopkins (The Father) and Kate Winslet (Ammonite).
Telluride 2020 selection
After Love (UK)
Dir. Aleem Khan
All In: The Fight For Democracy (US)
Dirs. Liz Garbus, Lisa Cortés
How to watch: In select theaters Sept. 9, available to stream on Amazon Prime Video Sept. 18
The Alpinist (US)
Dir. Peter Mortimer, Nick Rosen
How to watch: Follow @redbulldocs for screening updates
Ammonite (UK)
Dir. Francis Lee
How to watch: Toronto International Film Festival (Sept. 10-19)
Andrey Tarkovsky. A Cinema Prayer (It-Russ-Swe)
Dir. Andrey A. Tarkovsky
Apples (Gre-Pol-Slov)
Dir. Christos Nikou
How to watch: Venice Film Festival (Sept. 2-12)
The Automat (US)
Dir. Lisa Hurwitz
How to watch: follow at Facebook.com/THEAUTOMATthemovie for screening updates
The Bee Gees: How Can You Mend A Broken Heart (US)
Dir. Frank Marshall
Charlatan (Cze Rep–Ire-Pol-Slovak)
Dir. Agnieszka Holland
How to watch: screening at the now in-progress Transilvania International Film Festival
Concrete Cowboy (US)
Dir. Ricky Staub
How to watch: Toronto International Film Festival (Sept. 10-19)
Dear Mr. Brody (US)
Dir. Keith Maitland
The Duke (UK)
Dir. Roger Michell
How to watch: Venice Film Festival (Sept. 2-12), theatrical release Spring 2021
The Father (UK-Fr)
Dir. Florian Zeller
How to watch: Toronto International Film Festival (Sept. 10-19)
Fireball: Visitors From Darker Worlds (UK-US)
Dir. Werner Herzog, Clive Oppenheimer, 97 min)
How to watch: Toronto International Film Festival (Sept. 10-19), Stream on Apple+ (date TBD)
Ibrahim (Fr)
Dir. Samir Guesmi
How to watch: French release Dec. 9
Mainstream (US)
Dir. Gia Coppola
How to watch: Venice Film Festival (Sept. 2-12)
Mandibules (Fr)
Dir. Quentin Dupieux
How to watch: Venice Film Festival (Sept. 2-12), French release Dec. 2
Mlk/Fbi (US)
Dir. Sam Pollard
How to watch: Toronto International Film Festival (Sept. 10-19)
The Most Beautiful Boy In The World (Swe)
Dir. Kristina Lindström, Kristian Petri
Never Gonna Snow Again (Pol-Ger)
Dir. Małgorzata Szumowska, co-dir. Michał Englert
How to watch: Venice Film Festival (Sept. 2-12)
Nomadland (US)
Dir. Chloé Zhao
How to watch: Venice Film Festival (Sept. 2-12), Toronto International Film Festival (Sept. 10-19), Telluride From Los Angeles Drive-In Screening (Sept. 11), New York Film Festival (Sept. 25-Oct. 11), theatrical release Fall 2020
Notturno (It-Fr-Ger)
Dir. Gianfranco Rosi
How to watch: Venice Film Festival (Sept. 2-12), Toronto International Film Festival (Sept. 10-19)
Pray Away (US)
Dir. Kristine Stolakis
There Is No Evil (Ger-Iran)
Dir. Mohammad Rasoulof
How to watch: theatrical and virtual release at www.KinoMarquee.com by end of 2020
To The Moon (Ire)
Dir. Tadhg O'Sullivan
How to watch: Venice Days Film Festival (Sept. 2-12)
Torn (US)
Dir. Max Lowe
The Truffle Hunters (It-US-Gre)
Dir. Michael Dweck, Gregory Kershaw
Truman & Tennessee: An Intimate Conversation (US)
Dir. Lisa Immordino Vreeland
The Way I See It (US)
Dir. Dawn Porter