EXCLUSIVE: Lionsgate nabs UK rights to Saul Dibb feature.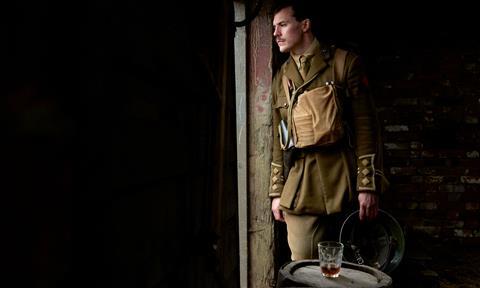 Lionsgate UK has picked up rights to Sam Claflin war drama Journey's End from Metro International.
The Hunger Games and Me Before You star Claflin plays the lead role in the adaptation of R.C. Sherriff's 1928 classic stage play about trench warfare.
Co-starring are Paul Bettany (A Beautiful Mind), Stephen Graham (Boardwalk Empire) Asa Butterfield (Miss Peregrine's Home for Peculiar Children), Toby Jones (Tinker Tailor Soldier Spy) and Tom Sturridge (Far From the Madding Crowd). Saul Dibb (The Duchess) directs.
Natalie Brenner, Metro International head of sales, negotiated the deal with Nick Manzi, head of production and acquisitions, Lionsgate UK.
The film, currently in post-production, is adapted for the screen by Simon Reade (Private Peaceful).
In Journey's End, 18-year-old new recruit Lieutenant Raleigh (Butterfield) has pulled strings to join his childhood friend and hero Captain Stanhope (Claflin) on the front line. However, Stanhope is horrified by Raleigh's arrival into the tension and claustrophobia of the officers' dugout where they are anticipating a massive German advance.
Stanhope has been altered almost beyond recognition by three years of war, kept going only by the thought that when the war is over he can return to his love – Raleigh's sister Margaret.
Guy de Beaujeu produces alongside Simon Reade through Fluidity Films (Private Peaceful). Director of photography is Laurie Rose (Free Fire).
Financiers include BFI (with National Lottery money), Fluidity Films, British Film Company, Metro International, Ingenious, The Welsh Government's Media Investment Budget and Adrian Politowski's Umedia.
Zygi Kamasa, CEO of Lionsgate's European office, said: "Adding Journey's End to our slate continues our robust investment into diverse and quality British films. British cinema continues to thrive and we're very happy to be able to bring quality product such as this to cinema-goers."