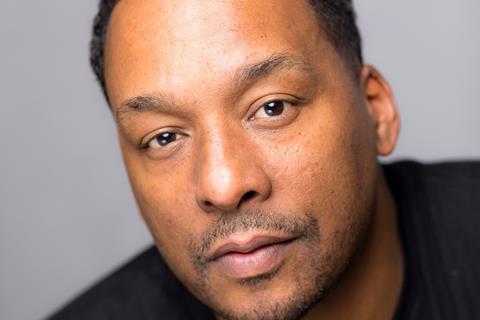 Lionsgate's Codeblack Films, the company behind breakout hit All Eyez On Me, has acquired producer, director, and writer Deon Taylor's thriller Traffik for an April 27, 2018 wide release by Codeblack and Lionsgate's Summit Entertainment film label.
Written and directed by Taylor (pictured at left), Traffik stars Paula Patton and Omar Epps, and centres on a young couple who travel on a romantic getaway to the mountains only to be terrorised by a vicious group of sex traffickers with whom they become locked in a desperate struggle for survival. The film's ensemble cast includes Laz Alonso, Roselyn Sanchez, Luke Goss, Missi Pyle and William Fichtner.
Taylor is represented by ICM, which is also handling worldwide sales. ICM negotiated the deal on the film produced by Taylor's Hidden Empire Film Group, with producing partners Roxanne Avent and Robert F Smith, along with Paula Patton's Third Eye Productions. Mark Burg of Primary Wave Entertainment served as executive producer.
Codeblack has released films including the Tupac Shakur biopic All Eyez On Me, the erotic thriller Addicted, Repentance, The Perfect Match, Frankie & Alice, the Sundance hit The Inevitable Defeat Of Mister & Pete, and Kevin Hart: Let Me Explain, one of the highest-grossing live concert films of all time. In addition to Traffik, upcoming Codeblack releases include 2 Minutes Of Fame and a biopic of 1960s activist Angela Davis.
"Deon Taylor is an iconic storyteller and master of the thriller genre whose films fit right in the sweet spot of the original, exciting and premium quality entertainment with which we are super-serving our audiences," Codeblack president and chief executive officer Jeff Clanagan and executive vice-president and general manager Quincy Newell said. "Combining an all-star cast headed by Paula Patton and Omar Epps, an A-list creative team and a riveting story, Traffik is an exciting addition to our diverse upcoming slate."
Taylor said: "I couldn't be more excited to join with Jeff, Quincy and the incredibly talented team at Codeblack Films and Lionsgate. They have a great track record in reaching African-American and Hispanic audiences and the marketing chops to expand this harrowing, edge-of-your-seat thriller to audiences everywhere."
Hidden Empire Film Group, in association with Primary Wave Entertainment, just completed the psychological thriller Motivated Seller starring Michael Ealy, Meagan Good and Dennis Quaid. Taylor directed Motivated Seller from a screenplay by David Loughery. Taylor, Mark Burg, Roxanne Avent and Brad Kaplan produced, while David Guillod served as executive producer.