Producer Lisa Marie Russo has been appointed by Doc Society (formerly BRITDOC) to head up the newly-launched BFI Doc Society Fund.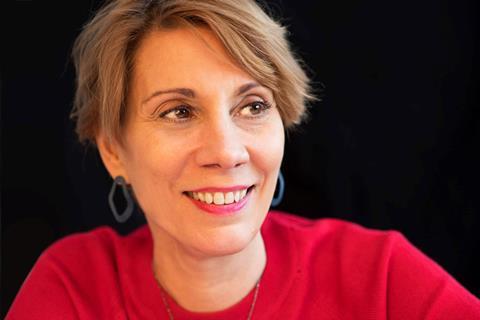 The BFI selected Doc Society as the delivery partner for its £1m-per-year doc fund in December last year. The commitment, which runs through to 2022, is part of the BFI's five-year strategy (BFI2022), which includes a promise to support the documentary medium and its emerging filmmakers.
Russo's credits include Ken Loach's The Spirit of '45, Terence Davies' Of Time And The City, Gillian Wearing's Self Made and Andrew Kotting's Swandown. In 2009, she launched production company Fly Film with Kate Ogborn. Since 2015, her company has executive produced 72 short films by young people for Screen South Ignition Random Acts Network, supported by Arts Council England and Channel 4.
In her new role as film fund executive, Russo will report to Sandra Whipham, director of Doc Society. The organisation is putting together a team of three people to administer the fund, and has confirmed the first appointment in the shape of Doc Society film fund officer Lynn Nwokorie, who is moving up to work alongside Russo to be the first point of contact for filmmakers.
The BFI Doc Society Fund will be open to both shorts and features and will award up to £650,000 in production grants annually. There will be three funding rounds per year, the first of which this year will be for feature projects. The fund will also run a regional touring programme of screenings and workshops three times a year, collaborate with BFI NETWORK to mentor new filmmaking talent, and provide a new dedicated Edit Lab for Fund grantees and UK editors.
Ben Roberts, director of the BFI Film Fund, commented: "Lisa Marie's calibre as a producer across a breadth of approaches to documentary, as well as her track record in discovering and nurturing talent, makes her the ideal appointment by Doc Society to spearhead our shared aspirations for the fund – to encourage and support dynamic, new non-fiction work in the UK."
Russo added: "I'm psyched to help grow the next generation of UK filmmakers and support the existing community of world-class documentarians. This is a call to arms for filmmakers across the country – audiences need to hear from you. I'm excited to get going as now more than ever we need our creative voices and their diverse, inventive visions."
Over the last 13 years, Doc Society has supported more than 270 feature documentary films with production or outreach grants, and has executive or co-produced titles including Citizenfour, Whose Streets and The Look Of Silence.
Doc Society director Sandra Whipham, added: "We are thrilled to have Lisa Marie join the team at Doc Society. Her background working with artists and filmmakers as an independent producer and deep commitment to nurturing the next generation of filmmaking talent makes her the ideal candidate to run the BFI-backed programme. As well as the fund and support programme, together, we will be thinking deeply about how this programme can build a more robust, representative and sustainable documentary sector in the UK."
The BFI Film Fund's recently backed documentaries including Notes On Blindness and Grace Jones: Bloodlight And Bami.