Brazilian director David Schurmann's film was selected over Aquarius by one vote, prompting some social media protests.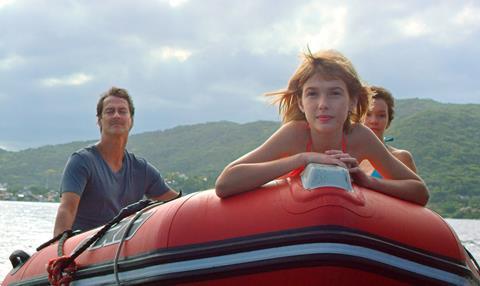 On the morning after the gala screening of Little Secret at the 18th edition of Rio de Janeiro Int'l Film Festival, the film's Brazilian director David Schurmann packed his bags to travel to Los Angeles. Schurmann is to meet awards consultant Steven Raphael, who has been hired (via Skype) to help him with his film's campaign for the 89th Academy Awards.
Little Secret was chosen last month as the Brazil's official entry for Best Foreign Language Film, after beating its rival, Kleber Mendonça Filho's Aquarius, by a single vote (the result was five to four). The choice by Brazil's Oscar selection committee further fuelled the controversy around Aquarius and led to protests on social media against Little Secret.
"Although at that time no one had seen our movie yet, we were attacked as if we were the enemy," says Schurmann. "We were unfairly dragged into a political discussion. The differences between Aquarius' team and the members of the committee had nothing to do with us."
Schurmann refers to the fact that a local film critic, Marcos Petrucelli, was selected by the Brazilan Ministry of Culture for the committee, a choice that upset Aquarius' filmmakers. Petrucelli had criticised on social media the Cannes protest led by Aquarius' cast and crew against the impeachment of Brazilian president Dilma Rousseff (who was removed from office at the end of August).
As predicted by Filho, Petrucelli didn't vote for Aquarius, choosing Little Secret. "I have a lot of respect for Kleber and Aquarius, a beautiful film that I saw in Cannes," said Schurmann. "But I don't feel that I am stealing the place of anyone. Our film fits the Oscar profile for depicting the unconditional love of a mother who fights for her daughter to survive."
To capture the attention of voters for Little Secret, which was inspired by the true story of Schurmann's adopted sister, the director has hired Steven Raphael as award strategist for his experience working on Brazilian films. In 2008, he helped Cao Hamburger's The Year My Parents Went On Vacation make the initial Academy shortlist of nine foreign-language films, which is then whittled down to the final five for voting.
Little Secret is a drama that interconnects three families whose lives are portrayed in parallel, and who are eventually brought together by the secret suggested in the title. The story follows the steps of a sick girl adopted by Brazilian sailors; a young Amazonian native who falls in love with a New Zealander; and an English woman embittered by her son's absence.
Schurmann has been advised that the campaign will cost at least $250,000, with magazine ads and special screenings for Golden Globe and Oscar members among other strategies.
"We are fortunate to have international names in the cast and crew, which will also help us to build the buzz for the Oscar. Even the producer Barrie M. Osborne is a kind of godfather of the movie," says Schurmann.
According to Schurmann, Osborne, producer of The Lord Of The Rings trilogy among others, liked Schurmann's pitch for Little Secret in Cannes in 2012. "He didn't get on board because he doesn't usually work with smaller films," says the director.
The Schurmann Filmes and Ocean Filmes production, which was shot in Brazil and New Zealand, had a budget of nearly BRL$10m (USD$3.1m). "Barrie helped open doors for us and made some suggestions in the script."
Because this is his debut feature, after the documentaries The World Twice Around (2007) and Missing (2011), Schurmann sought outcollaborators with international CVs. Irish actress Fionnula Flanagan (best known for The Others) stars as the English woman, playing opposite Brazilian actors such as Julia Lemmertz, Marcello Anthony and Maria Flor.
The script was penned by Marcos Bernstein, who wrote Walter Salles' Central Station. Brigitte Broch, who won an Oscar for the set decoration of Moulin Rouge!, was the film's production designer; the cinematographer was Inti Briones (The Loniest Planet) and Antonio Pinto, who worked on Asif Kapadia's Amy, composed the score.
Shot in Portuguese and English, Little Secret is scheduled to open in Brazil on November 10. A US distributor and release date have yet to be confirmed. "After the initial rage, felt by those who were rooting for Aquarius in the Oscar race, driven by political affinity, I hope Little Secret will be seen for what it is," says Schurmann.