London LGBT film festival reveals full programme; Sundance/Berlin winner 52 Tuesdays booked as closing film; VoD plans.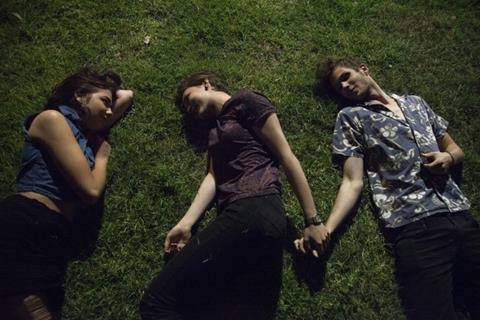 Scroll down for programme highlights
The long-running London Lesbian and Gay Film Festival (LLGFF) is to be renamed BFI Flare: London LGBT Film Festival in a bid to "reflect the increasing diversity of the programme".
The British Film Institute (BFI) will also launch a BFI Flare collection on its VoD platform, BFI Player, as well as a monthly screening programme at its BFI Southbank base in London.
The announcements were made last night (Feb 19) at the launch of the 28th edition of the festival, where the full programme was also unveiled. This year's festival runs March 20-30.
Speaking to ScreenDaily about the name change, BFI deputy head of festivals Tricia Tuttle said: "The festival had outgrown the name. Following an audience consultation last year, 70% came back saying it was time for a change.
"Options considered included literal LGBT titles and something more like Out or Queer. But there were many who didn't identify with those words.
"We think what we have come up with is colourful, illustrative and evocative. Flare represents the light of a cinema projector but also a guiding light to follow. It can also mean 'firestarter' – the spark of an idea that can grow."
Speaking about the new BFI Flare channel on VoD platform BFI Player, featuring contemporary and archive LGBT cinema, Tuttle said: "This festival has long been bursting at the seams. We were at 86% capacity last year and want to offer greater access to more people in London and across the UK."
Opening / Closing films
As previously announced, the opening night film will be the European Premiere of Hong Khaou's Lilting, which opened the World Dramatic Competition at this year's Sundance Film Festival.
Starring Ben Whishaw, Cheng Pei-Pei (Crouching Tiger, Hidden Dragon) and Peter Bowles, the film is a cross-generation, cross-cultural story set in London.
It was revealed last night that Sophie Hyde's 52 Tuesdays will close the festival.
The film won a Best Director Award at Sundance last month and also screened as part of the official selection at the Berlin Film Festival where it was awarded a Crystal Bear at the weekend.
Shot on 52 consecutive Tuesdays over the course of a year, the film follows a teenager's struggle to come to terms with her mother's transition from female to male.
The Accenture Gala is The Last Match, the story of two young men in Havana, Cuba, in a tale of economic desperation and sexual awakening.
The festival will include more than 50 features from across Europe, North America, South America and Asia.
Industry events
Additionally, this year's festival includes an expanded programme of industry events to help develop and support LGBT filmmaking talent, with support from Creative Skillset and other partners.
Tuttle added that BFI Flare will play an important role in developing LGBT talent in the same way that festivals in London, Sheffield, Edinburgh and Glasgow connect the industry with upcoming talent.
"We are expanding our programme to include at least one industry event every day," said Tuttle.
She also revealed that an announcement was due at the end of the month about a major new talent development project that would be organised with the BFI Film Fund and Creative Skillset.
Themed sections
This year's festival will group films into sections: Hearts, films about love and friendship; Bodies, focussing on sex, identity and transformation; and Minds, reflecting on art, politics and community.
There will also be special events such as an on-stage interview with Stephen Beresford, writer of the highly anticipated Pride, a drama which uncovers the true story of the Lesbians and Gays Support the Miners movement in 1984.
HEARTS
G.B.F., Darren Stein
C.O.G., Kyle Patrick Alvarez
Hawaii, Marco Berger
Last Summer, Leonardo Guerra Seràgnoli
Test, Chris Mason Johnson
Dual, Nejc Gazvoda
Reaching For The Moon, Bruno Barreto
Will You Dance With Me?, unseen Derek Jarman
Pakeezah (1972), Kamal Amrohi
Mughal-E-Azam (1960), K. Asif
Dr Rajinder Dudrah will give a talk on Bollywood -LGBT Style: Queer Readings of Popular Hindi Cinema.
BODIES
Concussion, Stacie Passion
Who's Afraid Of Vagina Wolf?, Anna Margarita Albelo
Gerontophilia, Bruce LaBruce
The Passion Of Michaelangelo, Esteban Larraín
I Always Said Yes: The Many Lives Of Wakefield Poole (doc), Jim Tushinski
Age Of Consent (doc), Charles Lum, Todd Verow
Programmer Michael Blyth will discuss the homo-erotics of gay horror films with a talk Queer Eye for the Dead Guy: A brief history of LGBT horror plus four of the best on the big screen:
A Nightmare On Elm Street Part II: Freddy's Revenge, Jack Sholder
The Lost Boys, Joel Schumacher
Fright Night, Tom Holland
Butcher, Baker, Nightmare Maker, William Asher
Programmer Emma Smart, inspired by US female prison drama Orange is the New Black, will give an illustrated lecture entitled We Love Caged Lesbians, followed by a rare screening of Caged (1949).
MINDS
(Documentaries)
The Abominable Crime, Micah Fink
Born This Way, Shaun Kadlec, Deb Tullmann (presented in association with the Human Rights Watch Film Festival)
Big Joy: The Adventures Of James Broughton, Stephen Silha, Eric Slade, Dawn Logsdon
Bridegroom, Linda Bloodworth-Thomason
Continental, Malcolm Ingram
Valentine Road, Marta Cunningham
My Prairie Home, Chelsea McMullan
Kate Bornstein Is A Queer And Pleasant Danger, Samantha Feder
SPECIAL EVENTS
As well as as an on-stage interview with Pride writer Stephen Beresford (see above), filmmaker Allyson Mitchell will have a lesbian-feminist art installation at BFI Southbank for the duration of the festival: Killjoy's Kastle is a haunted house style encounter with the horrors of political division and community politics. Allyson will also give a talk about her work as a film-maker and artist.
Archivist and DJ Jeffrey Hinton opens up his personal archive to explore the history of clubland drag in Life's a Drag (a celebration) followed by a rare screening of The Alternative Miss World (1980) (Andrew Logan hopes to attend).
Special festival guests include Hong Khaou, Sophie Hyde, Antonio Hens, Malcolm Ingram, Anna-Margarita Albelo, Darren Stein, Charles Lum and Todd Verow.
Led by BFI head of cinemas and festivals, Clare Stewart, and BFI deputy head of festivals Tricia Tuttle, BFI Flare is programmed by a team of five programmers: Brian Robinson, Emma Smart, Jason Barker, Michael Blyth and Nazmia Jamal.