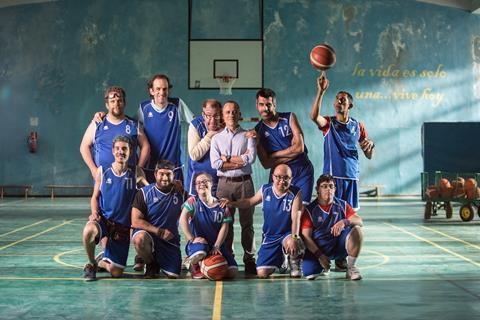 Sports comedy Champions, directed by Javier Fesser, stands out as the year's most popular local film at the Spanish box office with $21.6m, ranking at number four overall for 2018 after Hollywood trio Jurassic Park: Fallen Kingdom, Incredibles 2 and Avengers: Infinity War.
Champions, chosen as Spain's foreign-language Oscar entry, is well ahead of the year's other top local productions including The Best Summer Of My Life with $9m, and 2017 release Perfect Strangers, which has grossed $7.5m since January 5 this year.
The success of Champions — a comedy about a basketball coach who is sentenced to community service with a team of developmentally disabled players — confirms once again the perennial strength of local comedies at the Spanish box office.
The all-time Spanish box-office record is still held by comedy Spanish Affair, which grossed more than $70m in 2014. Although the most successful theatrical release in 2017 was family animation Tad The Lost Explorer And The Secret Of King Midas, for 2018 comedies feature strongly in the top 10 for local productions. Champions, The Best Summer Of My Life and Perfect Strangers all performed well. Other comedies include The Tribe at $6.9m (€6.1m), Yucatan at $5.8m (€5.1m), Superlopez at $5.39m (€4.77m), Empowered at $5.1m (€4.5m) and The Footballest (Los Futbolisimos) with $3.9m (€3.4m).
In this list, the only two dramas that made it into the top 10 are Sarah's Notebook at $5.9m (€5.2m) and Asghar Farhadi's Everybody Knows (shot in Spain and starring Penelope Cruz, Javier Bardem and Ricardo Darin) with $3.5m (€3.1m).
A total of 19 Spanish productions made it past the €1m ($1.1m) mark, but with €89.6m ($102m) grossed by local productions up to the end of November it is going to be a struggle to match the €100m ($113m) mark exceeded in 2016 (with the success of A Monster Calls) and 2017 (thanks to films such as Tad The Lost Explorer and Perfect Strangers). The share of the market for local productions should reach 17% — the same as in 2017.
High hopes were placed on reducing the tax on cinema tickets from 21%, which was the highest in Europe. Reduced to 10% in July, not all theatres used it to lower prices — and for those that did, it did not make an impact on admissions numbers. For the year to December 6, total admissions are down 0.8% and box office is down 0.3%, when compared to the equivalent period of 2017.
Among Hollywood studio films, the most profitable 2018 release in Spain was Universal's Jurassic World: Fallen Kingdom at $27.5m, which combines franchise appeal with the steady popularity of JA Bayona, the Spanish director at the helm of the dino sequel, and before that The Orphanage, The Impossible and A Monster Calls.
Also ranking highly in the Spanish market are Disney's Incredibles 2 (second with $24.1m to December 2) and Avengers: Infinity War (third with $23.2m to December 2) as well as Fox's Bohemian Rhapsody with $18.6m in the same period. Marvel's Black Panther, the second-biggest film of 2018 worldwide, has had a more modest performance in Spain, landing in 16th position for the year with $8.98m.