Atomic Blonde, The Big Sick, The Song Of Scorpions among line-up.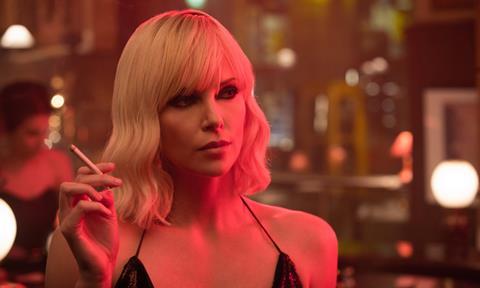 The line-up for the 70th Locarno Festival (Aug 2-12) in Switzerland has been announced.
Scroll down for the full line-up
The 16-strong Piazza Grande strand features 11 world premieres, including opening night film Tomorrow And Every Other Day directed by Noemie Lvovsky and starring Mathieu Amalric, and closing night music doc Gotthard - One Life, One Soul, about the swiss rock band.
Other Piazza Grande films include Atomic Blonde with Charlize Theron, Good Time starring Robert Pattinson, Kumail Nanjiani's The Big Sick, What Happened to Monday? with Glenn Close and the world premiere of Anup Singh's The Song of Scorpions, starring Irrfan Khan, who will attend the festival.
Actor and director Mathieu Kassovitz will receive the festival's 2017 excellence award and Nastassja Kinski will be honoured with a lifetime achievement award.
Michel Merkt (Toni Erdmann, Elle) will receive the festival's best independent producer award.
As previously announced, Adrien Brody will receive the honorary 2017 Leopard Club award.
The event, re-branded as the Locarno Festival this year, will feature new initiatives including a Locarno Kids section and four new theatres.
The festival's retrospective is dedicated to B-movie legend Jacques Tourneur (1904 - 1977), whose 1943 classic I Walked With A Zombie plays in the Piazza Grande section.
Full line-up
Wp denotes world premiere, Ip denotes international premiere.
Piazza Grande
Amori Che Non Sanno Stare Al Mondo by Francesca Comencini (Wp)
Atomic Blonde by David Leitch
Chien by Samuel Benchetrit (Wp)
Demain Et Tous Les Autres Jours, Noémie Lvovsky (Wp)
Drei Zinnen By Jan Zabeil (Wp)
Good Time By Ben Safdie, Joshua Safdie
Gotthard - One Life, One Soul By Kevin Merz (Wp)
I Walked With A Zombie By Jacques Tourneur
Iceman By Felix Randau (Wp)
Laissez Bronzer Les Cadavres By Hélène Cattet, Bruno Forzani (Wp)
Lola Pater By Nadir Moknèche (Wp)
Sicilia! By Jean-Marie Straub, Danièle Huillet
Sparring By Samuel Jouy (Wp)
The Big Sick By Michael Showalter
The Song Of Scorpions By Anup Singh (Wp)
What Happened To Monday? By Tommy Wirkola (Wp)
Concorso Internazionale
9 Doigts By F.J. Ossang (Wp)
As Boas Maneiras By Juliana Rojas, Marco Dutra (Wp)
Charleston By Andreï Cretulescu (Wp)
Did You Wonder Who Fired The Gun? By Travis Wilkerson (Wp)
En El Séptimo Día by Jim Mackay (Ip)
Freiheit By Jan Speckenbach (Wp)
Gemini By Aaron Katz (Ip)
Gli Asteroidi By Germano Maccioni (Wp)
Goliath By Dominik Locher (Wp)
Good Luck By Ben Russell (Wp)
La Telenovela Errante By Raúl Ruiz, Valéria Sarmiento (Wp)
Lucky By John Carroll Lynch (Ip)
Madame Hyde By Serge Bozon (Wp)
Mrs. Fang By Wang Bing (Ip)
Qing Ting Zhi Yan (Dragonfly Eyes) By Xu Bing (Wp)
Ta Peau Si Lisse By Denis Côté (Wp)
Vinterbrødre (Winter Brothers) By Hlynur Pálmason (Wp)
Wajib (Duty) By Annemarie Jacir (Wp)
Concorso Cineasti Del Presente
3/4 By Ilian Metev (Wp)
Abschied Von Den Eltern By Astrid Johanna Ofner (Wp)
Beach Rats By Eliza Hittman (Ip)
Cho-Haeng (The First Lap) By Kim Dae-Hwan (Ip)
Dene Wos Guet Geit By Cyril Schäublin (Wp)
Distant Constellation By Shevaun Mizrahi (Wp)
Easy By Andrea Magnani (Wp)
Edaha No Koto (Sweating The Small Stuff) By Ninomiya Ryutaro (Wp)
Il Monte Delle Formiche By Riccardo Palladino (Wp)
Le Fort Des Fous By Narimane Mari (Wp)
Meteorlar By Gürcan Keltek (Wp)
Milla By Valerie Massadian (Wp)
Person To Person By Dustin Guy Defa (Ip)
Sashishi Ded (Scary Mother) By Ana Urushadze (Wp)
Severina By Felipe Hirsch (Wp)
Verão Danado By Pedro Cabeleira (Wp)