This year's winners include film-makers from Bangladesh, Bhutan and Nepal.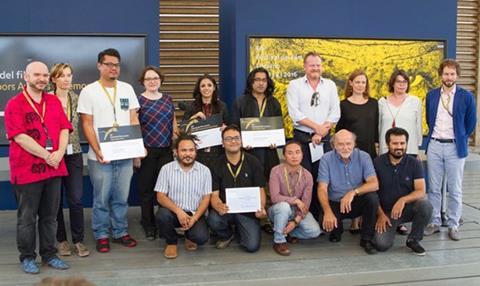 The winners of this year's Open Doors Hub co-production platform at Locarno Film Festival (Aug 3-13) have been revealed.
Bangladesh director Kamar Ahmad Simon's first feature documentary Day After Tomorrow (working title) was awarded an Open Doors production grant worth $30,500 (CHF30,000) as well as the ARTE International Open Doors Prize with a cash prize of $6,700 (€6,000).
The second in the planned Water trilogy, Day After Tomorrow already has French producer-consultant Dominique Welinski's company DW onboard as a co-producer.
Whilst attending Open Doors in Locarno this week, Simon was also able to meet the German producer Jakob D. Weydemann who will be serving as a co-producer on his next feature Silence Of The Seashell which received funding from Creative Europe-backed World Cinema Fund Europe fund last month.
Weydemann was in Locarno for the Alliance for Development initiative with the Italian-German co-production Children Of The Ice by Stefano Lodovichi, which had already been supported by the German-Italian Co-Development Fund.
Feature debuts
A second Open Doors production grant - worth $20,350 (CHF20,000) - was awarded by a international jury to Bhutan's Tashi Gyeltshen's feature debut The Red Phallus which will be the third in a trilogy following his shorts Girl With A Red Sky and The Red Deer.
Meanwhile, the $8,900 (€8,000) CNC Prize went to Nepalese filmmaker Abinash Bikram Shah's first feature Season Of Dragonflies which is currently structured as a co-production between Nepal's Icefall Productions with Germany's Die Gesellschaft DGS, France's CDP Productions and Nepal's Shooney Films.
In a new format this year with the Open Doors Lab and Open Doors Hub, Locarno's annual co-production lab has begun a three-year cycle which will focus on the south Asian countries of Afghanistan, Bangladesh, Bhutan, Maldives, Myanmar, Nepal, Pakistan and Sri Lanka.
Apart from the directors and producers selected for the Lab and Hub, this first edition was also attended by industry figures from the region such as Samia Zaman of the International Film Initiative of Bangladesh, Jigme Lhendup of Bhutan's Evolving Artists, and Grace Swe Zin Htaik, managing director of the Myanmar Motion Picture Organisation, and Lindsey Merrison of the Yangon Film School.
First Look winner
Joanna Kos-Krauze and her late husband Krzysztof Krauze's new feature Birds Are Singimg In Kigali was awarded $72,000 (€65,000) worth of post-production services by Cinelab Bucharest in the sixth edition of Locarno's works in progress showcase First Look which was dedicated to Polish films this year.
Some footage of Birds Are Singing In Kigali had previously been seen during the Polish Days at the New Horizons International Film Festival in Wroclaw last moth.
The First Look Awards jury of Rotterdam International Film Festival's director Bero Beyer, Toronto International Film Festival's artistic director Cameron Bailey and Istanbul International Film Festival's director Kerem Ayan gave its second award of $6,100 (€5,500) worth of advertising sponsored by Le Film Francais to the first feature Zgoda by Maciej Sobieszczanski.
During the Industry Days in Locarno, Vienna-based sales agent EastWest Filmdistribution announced that it has taken on international distribution for the Polish thriller This Is Hel (Hel) co-directed by Katia Priwieziencew and Pawel Tarasiewicz.
In addition, Joanna Lapinska, artistic director of Wroclaw's New Horizons International Film Festival and Head of the Polish Days, confirmed that this year's edition of New Horizons was her last and she will now be taking up the post of artistic director at the Transatlantyk Festival in Lodz from 2017.
Founded by Oscar-winnng composer Jan A.P. Kaczmarek, Transatlantyk is described as "a new artistic platform aimed at building a stronger relationship between society, art and the environment through music and film."
This year's edition had been held between 23 and 30 June, 2016.
Plans for Badawi biopic
Berlin-based production company Knudsen & Streuber Medienmanufaktur has optioned the rights for a biopic to be based on Ensaf Haidar's Raif Badawi, The Voice Of Freedom: My Husband, Our Story.
Haidar's book tells the story of her love for the Saudi Arabian social activist and blogger Badawi who was sentenced to 10 years imprisonment and 1,000 lashes in 2014.
Badawi received the European Union's Sakharov Prize and was nominated for the Nobel Peace Prize in 2015.