Antoinette Boulat and Elsa Pharaon took home the prize, which has been founded to recognise an overlooked film-making sector.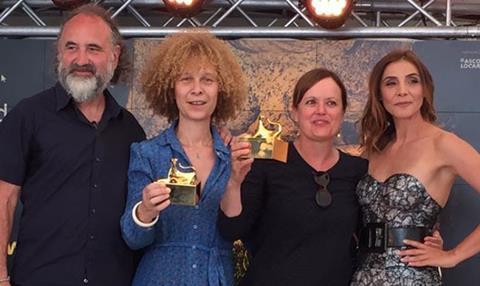 Long – and unjustifiably – overlooked when it comes to awards, casting directors finally had their moment in the sun in Locarno on Sunday night.
The first European Casting Director Award – an initiative of the International Casting Director Network (ICDN) and Locarno Film Festival (Aug 3-13), backed by media partner Screen International – was given to Antoinette Boulat and Elsa Pharaon from France for their work on Emmanuelle Bercot'sStanding Tall, which opened Cannes last year and launched the young actor Rod Paradot who later received a Cesar for his work.
A jury of Swiss director Ursula Meier, the German producer Peter Rommel, and the French actress Clotilde Courau judged the final seven contenders, from 21 European films which were long-listed by members of the ICDN. In an enthusiastically-received ceremony at Locarno, Courau paid tribute to the casting fraternity, and movingly recalled how casting directors had supported her throughout her career, and have been allies for so many other actors during what can be a tough and lengthy process.
Courau (In The Shadow Of Women) noted how every great actor, at one point, has been discovered, almost always by an astute casting director and expressed gratitude for the help she has received. Like Locarno's Head of Industry, Nadia Dresti, she said hoped this ICDN-backed award would become a regular fixture and a first step towards more global recognition. (The ICDN was founded in 2005 as part of the European Shooting Stars initiative, backed by European Film Promotion, and represented at Locarno by President Martin Schweighofer and Karin Dix.)
Other casting directors attending the event included Switzerland's Corinna Glaus and Beatrice Kruger of Italy – a widely-experienced CD who noted that only one national awards body, that of Israel, recognises the work of casting directors and that the CD is the only head of department without such recognition (although the Academy of Motion Pictures Arts and Sciences bowed to pressure and introduced a casting branch in 2013, that has not yet resulted in an award). "It is a scandal there is no award for casting directors," she said. (Last year, UK casting legend Nina Gold received a special BAFTA, but there is no move yet for a regular casting BAFTA or EFA).
Shortlist for the first European Casting Director Award
Simone Bär (Denmark) for Land Of Mine by Martin Pieter Zandvliet, 2015, Denmark/Germany
Antoinette Boulat and Elsa Pharaon (France) for Standing Tall by Emmanuelle Bercot, 2015, France
An Dorthe Braker (Germany) for Labyrinth Of Lies by Giulio Ricciarelli, 2015, Germany
Amy Rowan (Ireland) for MY Name Is Emily by Simon Fitzmaurice, 2015, Ireland/Sweden/Norway
Yngvill Kolset Haga (Norway) for One Night In Oslo by Eirik Svensson, 2014, Norway
Magdalena Szwarcbart (Poland) for The Mighty Angel by Wojciech Smarzowski, 2014, Poland
Pauline Hansson (Sweden) for Drifters, by Peter Grönlund, 2015, Sweden