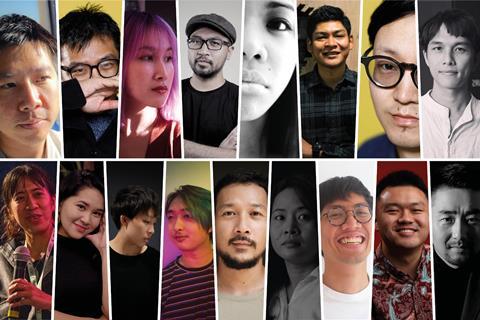 Thai director Sompot Chidgasornpongse, a long-time collaborator of Palme d'Or winner Apichatpong Weerasethakul, and emerging Myanmar documentarian Sein Lyan Tun are among the filmmakers who will be presenting projects at this year's edition of the Locarno Film Festival's Open Doors programme.
The initiative, aimed at supporting cinema from the global south and east, is in the final year of a three-year cycle focused on Southeast Asia and Mongolia and encompassing independent filmmaking communities in Laos, Cambodia, Thailand, Vietnam, Myanmar, Indonesia, Malaysia, the Philippines and Mongolia.
It will present a final eight projects in its co-production hub and also nine participants will join its producer lab. Both elements are due to take place physically during the Locarno Film Festival in Switzerland from August 6 to 10.
"We are delighted with the 2021 selection because it showcases a vibrant new scene of filmmaking in Southeast Asia and Mongolia. Instead of well-known names, we present seven new faces among the eight projects of the Open Doors Hub, each with a strong artistic voice," said Open Doors head Sophie Bourdon. "The nine talents in production participating in the lab, a majority of whom are women, also contribute to the cinematographic vitality of this young generation in all its diversity."
In addition to the physical events in Locarno, the festival launched a new suite of services in 2020 offering year-round support for Open Doors participants.
"During the two-year pandemic, Open Doors never stopped working with the region's talent and stayed by their side even when additional challenges arose, as recently happened in Myanmar," said Locarno artistic director Giona A. Nazzaro.
Filmmakers supported during this cycle include Vietnamese director Dieu Linh Duong who won Locarno's Pardi di Domani competition in 2020 for the short A Trip to Heaven; Thai filmmaker Ratchapoom Boonbunchachoke, whose short Red Aninsri; Or, Tiptoeing On The Still Trembling Berlin Wall won the Cinema & Gioventù Award for best international short film in the Pardi di domani 2020 competition, and Filipino director E Del Mundo who participated in the Open Doors Screenings 2020 with Man of Pa-Aling.
There will also be a public Open Doors Screenings programme during the festival, devoted to works from Southeast Asia and Mongolia, the selection of which will be announced at the festival press conference on July 1.
Open Doors Hub 2021 project
9 Temples to Heaven (Thai)
Dir. Sompot Chidgasornpongse
Prod: Kissada Kamyoung, Kick the Machine Films
A Useful Ghost (Thai)
Dir. Ratchapoom Boonbunchachoke.
Prods: Cattleya Paosrijaroen, Soros Sukhum, 185 Films Co.
Don't Cry Butterflies (Viet-Sing)
Dir. Dieu Linh Duong.
Prods. Si En Tan, Momo Film Co.
Our Son (Indo)
Dir Luhki Herwanayogi
Prod. Iqbal Hamdan, Catchlight Pictures
SAM (Phil)
Dir. E Del Mundo
Prod: Pamela Reyes, Create Cinema
The Beer Girl in Yangon (Myan- Phil- Indo)
Dir. Sein Lyan Tun
Prod: John Badalu, PS Film Production
The Water Garden (Mongo)
Dir. Ikhbayar Urchuud
Prod: Nomintuya Baasankhuu, No Wonder Films
Who Created Human Beings (Viet-Sing)
Dir. Binh Giang Le
Prod: Le Quynh Anh, DNY Productions
Open Doors Lab participants 2021
Ines Sothea, producer, Cambodia
Gugi Gumilang, Studio Rumah Kedua, Indonesia
Benji Lim, Kinovisuals, Malaysia
Bat-Amgalan Lkhagvajav, Media Crackers LLC, Mongolia
Myo Thar Khin, Only One But Rat Film, Myanmar
Lin Sun Oo, Tagu Films, Myanmar
Stelle Laguda, KT House Productions, Philippines
Pom Bunsermvicha, Vertical Films, Thailand
Nguyen Thi Xuan Trang, Lagi Limited, Vietnam