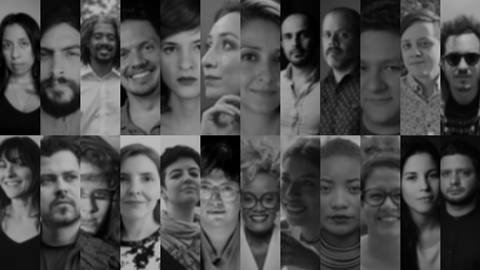 TIFF award-winning filmmaker Yanillys Pérez and up-and-coming Ecuadorian director Ana Cristina Barragán are among those set to present projects at this year's edition of the Locarno Film Festival's Open Doors programme.
The initiative, aimed at supporting independent cinema from the global south and east, is entering the first of a three-year cycle focused on Latin America and the Caribbean.
It will present eight projects in its co-production hub and a further nine participants will join its producer lab. Countries represented in this first year include the Dominican Republic, Bolivia, Paraguay, Costa Rica, Cuba, Venezuela, Guatemala and Ecuador among others.
The delegation will participate in the first part of the programme online from July 22-29 before meeting industry during the Locarno Film Festival in Switzerland from August 4-10.
Projects include Sopor And Bird from Ecuador's Barragán, who premiered her 2018 debut Alba in Rotterdam and that year also participated in Berlin Talent Lab with the screenplay for her follow-up, Octopus Skin.
When Rain Falls will be presented by Dominican-Venezuelan director Pérez, whose previous documentary Jeffrey won the Discovery Award at Toronto International Film Festival in 2016. Venezuelan filmmaker Michael Labarca, who won a prize with his short The Guilt, Probably at Cannes Cinéfondation in 2016, will present his first feature Kids Swimming In The Lake, produced by Patricia Ramírez Arévalo.
The last time Open Doors focused on the region was in 2008 with projects that included The Life Of Fish by Chilean filmmaker Matias Bize, which played at Venice Days in 2010, and Uruguayan feature So Much Water from Ana Guevara and Letitia Jorge, which screened at Berlin in 2013. Further titles included The Summer of Flying Fish by Chilean filmmaker Marcela Said, selected for Directors' Fortnight at Cannes in 2013, and The Third Side of the River from Argentinian writer/director Celina Murga, which played in Competition at Berlin in 2014.
This year, there will also be a public Open Doors Screenings programme during the festival, devoted to features and shorts from Central America and the Caribbean, the selection of which will be announced at the festival press conference on July 6.
Open Doors is held in collaboration with the Swiss Agency for Development and Cooperation (SDC) of the Federal Department of Foreign Affairs (FDFA).
Open Doors Hub 2022 project
When Rain Falls (Cuando Cae La Lluvia) (Dom Rep)
Dir. Yanillys Pérez
Prod. Yanillys Pérez, YPR Films
Diamond (Diamante) (Bol)
Dir. Yashira Jordán
Prod. Alvaro Olmos Torrico, Empatia Cinema
Kokue (Para, Chile)
Dir. Miguel Agüero
Prod. Cynthia García Calvo, Asociación Cultural Arraigo, CYAN prods
Men Die Sooner (Los Hombres Morimos Antes) (Costa-Uru)
Dir. Federico Montero
Prod. Alexandra Latishev, La Linterna Films
MOA (Cuba-Bra)
Dir. Marcel Beltrán
Prod. Paula Gastaud, Mediocielo Films
Kids Swimming In The Lake (Muchachos Bañándose En El Lago) (Ven-Chile-Fr)
Dir. Michael Labarca
Prod. Patricia Ramírez Arévalo, Todos Los Ríos
Los Invisibles (Guat)
Dir. Andres Rodríguez
Prod. Mauricio Escobar, La Danta Films
Sopor And Bird (Sopor Y Ave) (Ecu-Arg-Sp)
Dir. Ana Cristina Barragán
Prod. Joe Houlberg, Boton Films
Open Doors Lab participants 2022
Ricardo B'atz', Cayaguanca Films, El Salvador
María Félix Morales Lotz, Asertiva, Nicaragua
Daniela Fuentes Moncada, Epopeya S.A., Ecuador
Karolina Hernandez Chaves, Dos Sentidos, Costa Rica
Gilbert Mirambeau, Muska Group, Haiti
Illari Orccottoma, Independent Producer, Peru
Nadean Rawlins, RAW Management, Jamaica
Michelle Serieux, Imagine Caribbean, Saint Lucia
Camila Urrutia, Camaleon Films, Guatemala