EXCLUSIVE: Company's financing slate features new films by Simon Saulnier, Eric Charrière and Coralie Fargeat.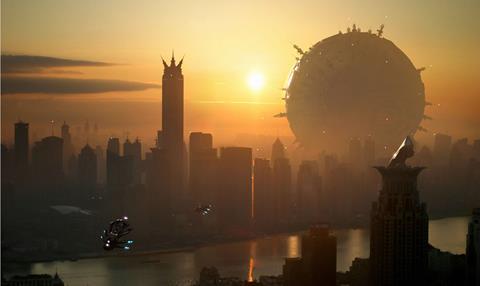 French film company Logical Pictures has closed a €20m finance round pulling together investment for 30 feature productions over the next four years.
"Our aim is to gap finance around 20 movies initiated by third party producers and another 10 in-house productions, putting in around 20% of the budget," explained company co-founder and president Frédéric Fiore.
He is at this week's European Film Market (EFM) in Berlin networking and scouting for projects, alongside fellow co-founder and VP development Alexis Perrin.
"We're talking to European producers and sales agents but we're keen to meet US agents working on independent films in the $1m-$2m budget range," said Perrin.
The company's focus is on elevated sci-fi, fantasy or thriller genre productions with a strong visual dimension and international potential, involving up and coming talent.
"We'd like to become a production and financing hub for these sorts of productions," added Perrin.
In-house projects
The company already has half a dozen upcoming productions on its slate.
Projects developed in-house include psychological escape thriller Capture about a young war photographer who is kidnapped by bandits while on assignment in the Middle East and held in a cave. It is due to shoot this summer.
It is the debut thriller of French director Simon Saulnier who was signed in January by LA agency UTA on the back of his post-apocalyptic sci-fi short film La Lisière (The Edge).
It is also lead producing Eric Cherrière's Medieval action drama No Gods No Masters.
Palestinian actor Saleh Bakri recently signed to play the lead role of a mysterious Arab stranger who comes to the rescue of an oppressed village in southwest France, challenging a cruel and powerful local lord, who once led crusader campaigns in the Holy Land.
It is Cherrière's second feature after his debut 2014 debut film Cruel, which was about a serial killer, and was presented at Cannes co-financing market L'Atélier last year. It will shoot in the Lot region in southwestern France this autumn.
Other previously announced projects include futuristic work Ickerman and Winter's End, about four orphans who discover they are the children of resistance fighters in a near future world, which are scheduled to go into production in 2018.
Third party projects
Third party projects on its slate include Coralie Fargeat's thriller Revenge and Pascal Laugier's horror thriller Incident In A Ghost Land, in which it invested $1m.
"We can come in at any stage although up until now it's been towards the end of financing just ahead of the shoot," says Fiore.
In the case of Revenge, which is currently shooting, Logical came on board on the eve of the shoot after being approached by lead producers Marc-Etienne Schwartz and Marc Stanimirovic.
Starring Italian actress Matilda Lutz as woman who goes after three men who left her for dead in the desert, Revenge is one of the first pick-ups of new French sales company Charades, launched on the eve of the EFM by Carole Baraton, Yohann Comte and Pierre Mazars.
"Marc-Etienne and Marc approached us a while ago but the gap was too big but they came back with a smaller gap and the sellers packaging and we decided to get involved, closing the deal in less than a week on the eve of the shoot. Their experience as producers and the presence of Charades was a big factor in our decision to come on board," says Fiore.
Logical Pictures launched during Cannes last year. Alongside Fiore and Perrin, other members of the founding team include marketing chief Yannick Bossenmeyer, producer Eric Tavitian and former Studiocanal business analyst Tim Belda who heads up legal and finance affairs.