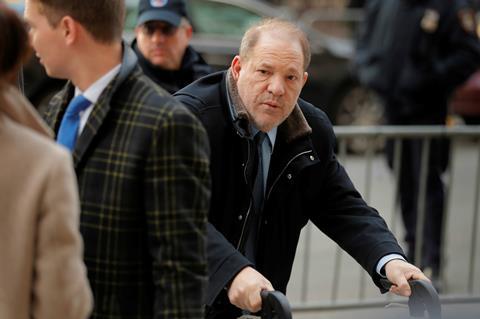 Los Angeles prosecutors have charged Harvey Weinstein with sexual battery by restraint in addition to the four charges he already faces.
The new charge was filed before it would have become time-barred. The charge concerns an alleged incident against a woman in a Beverly Hills hotel room on May 11, 2010.
The other four charges relate to alleged incidents in hotels in 2013. In January, Los Angeles County District Attorney Jackie Lacey said Weinstein had been charged with one felony count each of forcible rape, forcible oral copulation, sexual penetration by use of force, and sexual battery by restraint.
The latest charge carries a potential prison term of four years, which means if Weinstein were found guilty of all the Los Angeles charges he would face an additional 29 years in prison.
Authorities are working to get Weinstein extradited from prison near Buffalo, New York, to face trial in Los Angeles. The disgraced former Hollywood mogul has begun a 23-year prison sentence after he was found guilty by a Manhattan jury of third-degree rape and first-degree sexual assault.
It is said more than 100 women have accused Weinstein of sexual misconduct. He has consistently denied any non-consensual sex.