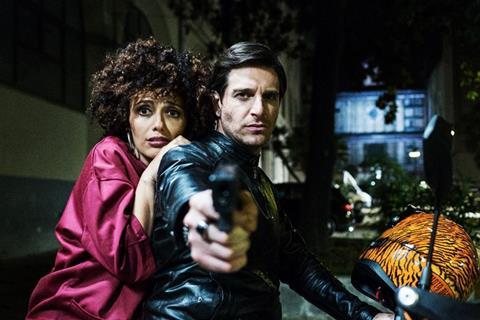 The Manetti brothers' Love And Bullets won five prizes at the 62nd David di Donatello awards – Italy's equivilent to the Oscars – after starting the evening with 15 nominations.
The musical crime comedy, which first premiered in competition at the Venice Film Festival, was awarded for best film, best actress in a supporting role, best score, best original song and best costumes.
Susanna Nicchiarelli's Nico, 1988, which also premiered in Venice winning the Orizzonti competition, got four awards; best original screenplay, best sound, best make-up and best hairdressing.
Italy's candidate for this year's Academy Awards, Jonas Carpignano's A Ciambra (executive produced by Martin Scorsese) was awarded for best director. Italian animation novelty, Cinderella The Cat, unexpectedly won best production and best digital effects.
The ceremony kicked off with a witty monologue from actress Paola Cortellesi that tackled gender inequality in the film industry.
The Dissenso Comune movement (an Italian equivalent to #metoo) was mentioned in several winner's speeches.
Love And Bullets was produced by Madeleine and Manetti bros. film together with Rai Cinema and distributed by 01 Distribution to a poor Italian box office result of $1.8m. Set to the music of composers Pivio and Aldo De Scalzi, the film tells the love story between a nurse and a mob's hitman in Naples.
Nico, 1988 was produced by Vivo Film and Tarantula together with Rai Cinema. Underappreciated at the domestic box office, it proved to be a good seller abroad. The movie stars Trine Dyrholm (Love Is All You Need, The Commune) in the titular role and reconstructs the life of the singer, former member of the Velvet Underground, during her 1988 eastern European tour, when she was struggling with drugs, her son and a complicated private life.
Veteran director Giuliano Montaldo was awarded as best supporting actor in Everything You Want, while 75 year old Renato Carpentieri was awarded his first David di Donatello as best actor for Gianni Amelio's La Tenerezza: Holding Hands.
Despite its 11 nominations, Ferzan Özpetek's Naples In Veils only managed to win best cinematography and best production design, while Jasmine Trinca's best actress award was the only recognition for Fortunata, which won the same prize at this year's Un certain regard competition in Cannes. International Critic's Week opener Sicilian Ghost Story by Antonio Piazza and Fabio Grassadonia won the award for best adapted screenplay.
The Square won the Best European Union film award, while the best foreign film prize went to Dunkirk.
Honorary awards were given to Diane Keaton and Steven Spielberg, who gave a moving speech about meeting Federico Fellini on his very first trip to Italy.
Keaton, receiving the honorary David di Donatello, thanked Woody Allen for influencing her carrier in her speech. Several stars have distanced themselves from the director in recent months.