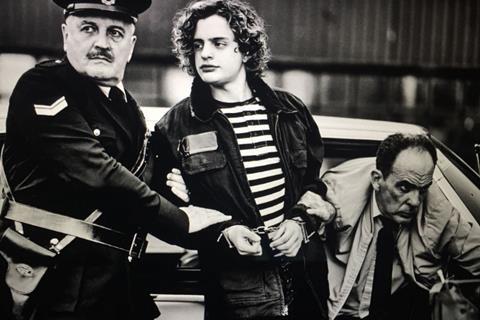 UGC Distribution has acquired French rights from Film Factory to Luis Ortega upcoming Argentina-Spain crime thriller The Angel (El Angel) that reunites K&S Films with Pedro Almodovar's El Deseo.
The film, in post-production, centres on the case of the teenage serial killer known as The Angel of Death who remains in jail and has earned the dubious distinction of being Argentina's longest serving prisoner.
Newcomer Lorenzo Ferro in the lead role as Carlos Robledo Puch, who was a baby-faced malfeasant and thief when he embarked on a thieving and killing spree with a new school friend that is believed to have resulted in 11 homicides. He remains in prison after 45 years.
Chino Darin (Death In Buenos Aires), Mercedes Morán (Neruda), Daniel Fanego (Betibu), Luis Gnecco (Neruda), Peter Lanzani (The Clan), Cecilia Roth (All About My Mother) also star.
Vicente Canales of Film Factory concluded the deal with Thierry Decourcelle of UGC Distribution in Berlin last month. Film Factory handles ongoing international sales.
El Angel is an Argentine-Spanish co-production that reunites K&S Films and Almodovar's El Deseo following Wild Tales and The Clan, as well as Underground Producciones and Telefe. Fox will distribute in Argentina on August 9.
"We are delighted and thrilled with the fact that such an experienced and outstanding distribution team will bring El Angel to French audiences," Agustín Almodóvar of El Deseo said. "Luis Ortega has achieved a unique and powerful film and we have no doubts that now it is in very good hands with UGC."
Thierry Decourcelle of UGC added: "We are more than happy to distribute this great movie. Luis Ortega is a fantastic director and he found with El Angel the perfect vehicle. This is a very original and fascinating film for us to release in France. And we are also thrilled to work for the first time with KS films and El Deseo, two great production companies."
"We're extremely glad to have closed this deal with such a good company as UGC Distribution and to know that this great title will have a wide theatrical release in a key territory like France," Canales said. "We consider UGC one of the greatest distribution groups and it's great to see that they share our enthusiasm about El Angel. After the producers' previous worldwide successes (Wild Tales, The Clan) we are confident that El Angel will be a great hit too."