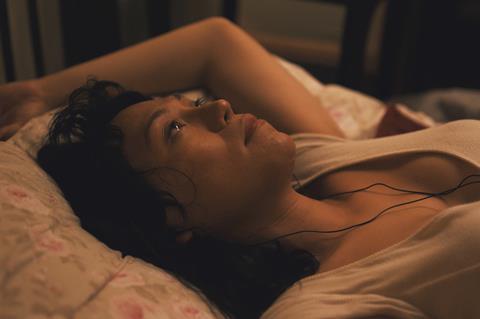 Paris-based distributor JHR Films has acquired French rights to New York-based Philippine filmmaker Isabel Sandoval's transgender, star-crossed lovers tale Lingua Franca ahead of its premiere in Venice's independent strand Giornate degli Autori (formerly known as Venice Days).
The drama revolves around a Brooklyn-based, Philippine caregiver, desperate to acquire a green card so she can remain in the US, who becomes involved with a slaughterhouse worker who is unaware she is transgender.
In addition to its Venice slot, the film was also announced on Wednesday as one of 10 titles selected for competition at the BFI London Film Festival in October.
Paris-based Luxbox, which is handling international sales, has also unveiled the first trailer for the film, below.
Founded in 2014 by Jane Roger, the daughter of late filmmaker and Jean-Luc Godard collaborator Jean-Henri Roger, JHR Films has a track record in distributing edgy, arthouse fare.
Recent releases include Portuguese director João Canijo's pilgrimage tale Fátima and French-Bulgarian filmmaker Bojina Panayotova's documentary I See Red People.
Roger said she had been drawn to the timely and authentic nature of the film, describing it as "a sincere, political and intimate portrait of a Philippine transwoman immigrant looking for love and a place as a woman in Trump's America."
Luxbox co-chiefs Fiorella Moretti and Hédi Zardi said of the deal: "Isabel Sandoval's film will benefit from the dedication and passion of Jane Roger who artfully traced a path in the arthouse circuit of French distribution", adding "it's encouraging for the film to find its French distributor at the beginning of Venice Film Festival."
Lingua Franca is the third feature of Sandoval, who is transgender herself and plays the protagonist in the film. Her previous works include 2011's Señorita, which premiered in competition in Locarno, and debut picture Apparition, a period drama about cloistered Philippine nuns.
Lingua Franca is produced by Tony and Grammy-winning Filipino producer Jhett Tolentino, with Darlene Malimas and Carlo Velayo.