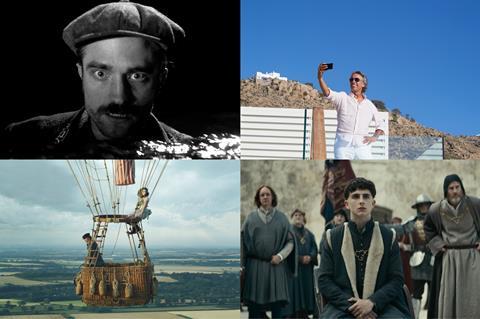 Robert Eggers' The Lighthouse, Michael Winterbottom's Greed, Tom Harper's The Aeronauts and David Michod's The King will all be showcased as gala screenings at this year's BFI London Film Festival (October 2-13).
The full programme has been announced today. Scroll down for the list.
Further galas include Noah Baumbach's Marriage Story, Mirrah Foulkes' Judy And Punch, Kleber Mendonça Filho and Juliano Dornelles' Bacurau, and Marielle Heller's A Beautiful Day In The Neighborhood, starring Tom Hanks as folksy US TV personality Fred Rogers.
Returning to LFF after the success of Can You Ever Forgive Me?, Heller's film will screen as the Patron's Gala.
Michael Winterbottom is also back at the LFF with his satirical comedy Greed, starring Steve Coogan, while Taika Waititi will be presenting black comedy JoJo Rabbit. James Mangold's Le Mans 66 (aka Ford v Ferrari), starring Matt Damon and Christian Bale, is another high-profile UK premiere.
Bruce Springsteen will be in London for the international premiere of his concert film, Western Stars, which he co-directed with Thom Zimny and which is the festival's Create Gala.
As already announced, Armando Iannucci's The Personal History Of David Copperfield opens the festival while Rian Johnson's Knives Out is the American Express Gala.
Martin Scorsese's The Irishman, backed by Netflix, will close the festival as an international premiere.
Including shorts, 40% of the films overall are directed or co-directed by women, a small increase on the 2018 figure. There are 229 features in the programme and 116 shorts.
World premieres
Among the world premieres playing at the festival are Wash Westmoreland's Netflix-backed Earthquake Bird starring Alicia Vikander; Craig Roberts' Eternal Beauty starring Sally Hawkins; Make Up, the debut feature of Screen Star of Tomorrow 2019 Claire Oakley; Gerard Johnson's Muscle; and Michael Caton-Jones' Our Ladies, an adaptation of Alan Warner's coming-of-age novel The Sopranos.
Competition titles Rose Plays Julie, directed by Christine Molloy and Joe Lawlor, and Fanny Lye Deliver'd directed by Thomas Clay are also world premieres.
Documentaries
The festival is typically strong on documentary titles this year with 40 titles screening, including Cold Case Hammarskjold, Coup 53, Cunningham, The Kingmaker and I Am (Not) A Monster which all screen in the competition section.
Feras Fayyad's The Cave is the documentary special presentation. Veteran UK documentary director Kim Longinotto is giving a Screen Talk on October 6.
BFI London Film Festival 2019 lineup
Headline Galas
The Aeronauts
Dir. Tom Harper
A Beautiful Day In The Neighbourhood
Dir. Marielle Heller
Greed
Dir. Michael Winterbottom
Hope Gap
Dir. William Nicholson
Jojo Rabbit
Dir. Taika Waititi
The King
Dir. David Michôd
Le Mans '66
Dir. James Mangold
Marriage Story
Dir. Noah Baumbach
Previously announced:
The Personal History Of David Copperfield (opening film)
Dir. Armando Iannucci
The Irishman (closing film)
Dir: Martin Scorsese
Knives Out (American Express gala)
Dir. Rian Johnson
Festival Gala, Strand Galas and Special Presentations
Festival Gala
Ema
Dir. Pablo Larraín
Strand Galas
Abominable (Family)
Dir. Jill Culton, Todd Wilderman
Bacurau (Thrill)
Dirs. Kleber Mendonça Filho, Juliano Dornelles
The Dude In Me (Laugh)
Dirs. Hyo-jin Kang
Judy & Punch (Dare)
Dir. Mirrah Foulkes
The Lighthouse (Cult)
Dir. Robert Eggers
Official Secrets (Debate)
Dir. Gavin Hood
The Peanut Butter Falcon (Love)
Dirs. Michael Schwartz, Tyler Nilson
The Two Popes (Journey)
Dir. Fernando Meirelles
Western Stars (Create)
Dirs. Thom Zimny, Bruce Springsteen
Special Presentations
Bad Education
Dir. Cory Finley
Blackbird
Dir. Roger Michell
Bombay Rose
Dir. Gitanjali Rao
The Cave
Dir. Feras Fayyad
First Love
Dir. Takashi Miike
Gösta (Episodes 1,5, 6, and 8) TV series
Dir. Lukas Moodysson
Krabi, 2562
Dirs. Anocha Suwichakornpong, Ben Rivers
Love, Life And Laughter
Dirs. George Pearson
Our Ladies
Dir. Michael Caton-Jones
Portrait Of A Lady On Fire
Dir. Céline Sciamma
Rocks
Dir. Sarah Gavron
First feature competition
Atlantics
Dir. Mati Diop
Babyteeth
Dir. Shannon Murphy
Calm With Horses
Dir. Nick Rowland
House Of Hummingbird
Dir. Bora Kim
Instinct
Dir. Halina Reijn
The Last Black Man In San Francisco
Dir. Joe Talbot
Make Up
Dir. Claire Oakley
Relativity
Dir. Marikok Minoguchi
Scales
Dir. Shahad Ameen
Documentary competition
Cold Case Hammarkskjöld
Dir. Mads Brügger
Coup 53
Dir. Taghi Amirani
Cunningham
Dir. Alla Kovgan
I Am (Not) A Monster
Dir. Nelly Ben Hayoun-Stépanian
The Kingmaker
Dir. Lauren Greenfield
Mystify: Michael Hutchence
Dir. Richard Lowenstein
Overseas
Dir. Sung-A Yoon
A Pleasure, Comrades!
Dir. José Filipe Costa
White Riot
Dir. Rubika Shah