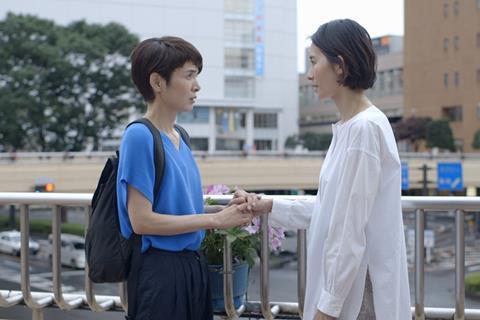 German sales outfit M-Appeal has closed a raft of major deals on Ryusuke Hamaguchi's Berlinale award-winner Wheel Of Fortune And Fantasy, including North America and the UK.
The Japanese romantic drama, which won the grand jury prize at the Berlinale when it premiered in Competition last month, has been acquired by Film Movement for the US and Canada. It follows a fierce bidding war that is understood to have involved 10 companies. Film Movement is planning a theatrical release later in 2021.
Further deals were closed for the UK and Ireland (Modern Films), Australia and New Zealand (Potential Films), Israel (Lev Cinemas), Russia (Paradise Film Distribution), Norway (Another World Entertainment), Sweden (Njutafilms), Italy (Tucker Film), Baltics (Kino Pavasaris Distribution), Poland (New Horizons Association), ex-Yugoslavia (Five Stars Film Distribution) and Singapore (Anticipate Pictures). M-Appeal is in advanced stages of negotiation for Switzerland, and in talks for Austria.
The film comprises three episodes, each revolving around a woman, which tell stories of an unexpected love triangle, a failed seduction trap and an encounter that results from a misunderstanding.
Speaking to Screen, Film Movement president Michael E. Rosenberg described the film as "a sympathetic and sensitive look into the female universe, subtly portrayed," and added: "Hamaguchi dissects and grasps what these everyday women in the story are going through, in a touching and engrossing manner."
Wheel Of Fortune And Fantasy also came joint top of Screen's 2021 Berlin jury grid.
Theatrical and festival plans
The release strategies of the various distributors are also coming into focus.
Modern Films is looking to release the film theatrically in the UK this autumn, when managing director Eve Gabereau said the audience would "experience its imaginative reflection on coincidence, fate, identity, love and desire".
In Norway, Another World Entertainment is aiming for festival exposure initially before a release in cinemas in early 2022. Sweden's Njutafilms is planning a theatrical release in the fourth quarter of 2021.
Italy's Tucker Film is aiming for a theatrical release at the end of summer in at least 20 arthouse cinemas while Kino Pavasaris Distribution in the Baltics and Poland's New Horizons Association are planning a release in cinemas in late autumn. In ex-Yugoslavia, Five Stars Film Distribution is expected to follow the same strategy while Singapore's Anticipate Pictures has set a theatrical release for the third quarter of 2021.
Previously reported deals include Hong Kong (Edko Films); Spain (Caramel Films); Brazil (Belas Artes Group); China (Jetsen Huashi Wangju (Changzhou) Cultural Media co); Benelux (September Film); Greece (Strada Films); France (Diaphana); Portugal (Leopardo Filmes); South Korea (GreenNarae Media); and Taiwan (Andrews Films). Covid-permitting, all these distributors are committed to a theatrical rollout.
"I am overwhelmed by the optimism Wheel Of Fortune And Fantasy has nurtured with distributors around the world, in a moment when the pandemic seemed to leave no hope no light at the end of the tunnel," said M-Appeal CEO Maren Kroymann. "[It's] as if they had been waiting for this film to restart their activity full power full energy."