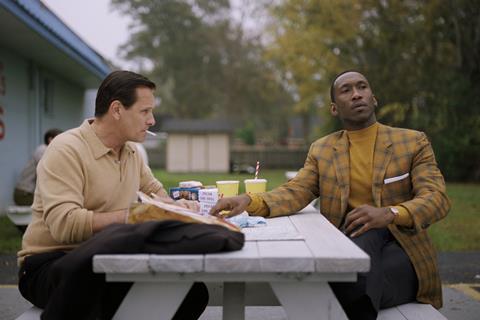 Peter Farrelly's Green Book will open the third edition of the International Film Festival and Awards Macao (IFFAM), which also unveiled its full line-up at a press conference in Macau today.
The international competition for first and second-time filmmakers will screen 11 films, including China's Suburban Birds, India's The Man Who Feels No Pain and Japan's Jesus (see full line-up below). The best film in the international competition will receive a cash prize of $60,000.
As previously announced, Chinese director Chen Kaige is heading the competition jury.
This year's IFFAM has also introduced a new competition section, New Chinese Cinema, designed to present the best of independent Chinese-language cinema from across the region. The six selected titles include mainland China's Baby, The Pluto Moment and Up The Mountain; Fly By Night from Malaysia, and Dear Ex and Xiao Mei from Taiwan.
Gala screenings at the festival will include UK productions The Favourite and Old Boys, Indonesia's Aruna & Her Palate and Kong Ruiliang's Nobody Nose, adapted from three novels written by Macau authors.
Special Presentations include Mary Queen Of Scots, Chinese drama Lost, Found and Ivo M. Ferreira's Empire Hotel, a co-production between Portugal, China and Macau.
Flying Daggers, a non-competitive selection of international genre films, includes titles such as the Philippines' BuyBust and Cannes Critics Week hit Diamantino, while the Best of Fest Panorama will screen films including Roma, The Sisters Brothers, Papi Chulo and Thailand's Manta Ray, which won best film in the Orizzonti section of Venice.
The festival also announced that Chinese actress Yao Chen (Lost, Found) will be this year's 'Actress In Focus', while Korean rising star Lim Yoon A (a.k.a Yoona) will be a talent ambassador, joining Hong Kong star Aaron Kwok and Nicolas Cage.
This year's IFFAM will run December 8-14.
IFFAM 2018 International Competition:
Ága (Bulgaria-Germany-France)
All Good (Germany)
Clean Up (Korea)
The Guilty (Denmark)
The Good Girls (Mexico)
Jesus (Japan)
The Man Who Feels No Pain (India)
School's Out (France)
Scarborough (UK)
Suburban Birds (Mainland China)
White Blood (Argentina)