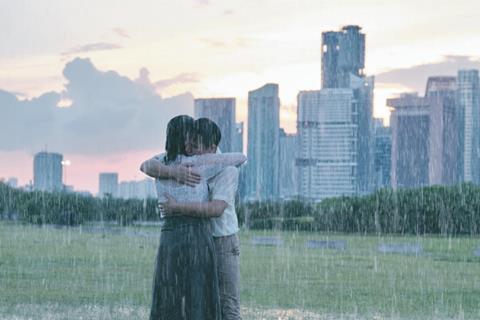 The 4th International Film Festival & Awards Macao has unveiled its 2019 programme, including the return of the New Chinese Cinema section with a jury headed by Romanian filmmaker Cristian Mungiu.
Mungiu will oversee a five-person jury watching six films from Chinese-speaking territories. His jury consists of BFI London Film Festival artistic director Tricia Tuttle; former SFFILM (San Francisco Film) executive director Noah Cowan; and filmmakers Kirsten Tan from Singapore and Qiu Yang from China.
Scroll down for the line-up
The films in the section include Anthony Chen's Wet Season, which launched in Toronto in September; and Cannes Directors' Fortnight 2019 title To Live To Sing by Johnny Ma.
The festival will open on Thursday, December 5 with Taika Waititi's Jojo Rabbit, and run until the awards ceremony on Tuesday, December 10.
10 features from first- or second-time directors will compete for the $60,000 (£46,626) first prize, including Fyzal Boulifa's UK-France co-pro Lynn + Lucy, which was recently nominated for two BIFAs.
Also in the section is Rodd Rathjen's Buoyancy, a Berlin 2019 premiere which is Australia's entry for best international feature at the 2020 Oscars.
Chinese filmmaker Peter Chan Ho-sun is jury president for the competition, with jury members including Perfect Village Entertainment CEO Ellen Eliasoph; Indonesian actress Dian Sastrowardoyo; Taiwanese director Midi Z; and Welsh actor and director Tom Cullen.
IFFAM will host three gala screenings – A Shaun The Sheep Movie: Farmageddon and Judy from the UK, and Dance With Me from Japan.
The World Panorama section, celebrating directors and award-winning films from major festivals, includes Sacha Polak's Dirty God starring Screen Star of Tomorrow Vicky Knight; Jessica Hausner's Cannes 2019 Competition title Little Joe; and Ye Lou's Venice 2019 Competition entry Saturday Fiction.
There is also a 'Flying Daggers' strand for genre cinema, for which titles are Takashi Miike's First Love, Galder Gaztelu-Urrutia's The Platform, and Robert Eggers' The Witch.
IFFAM 2019 Competition
Bellbird (NZ)
Dir: Hamish Bennett
Bombay Rose (Ind-Fr-UK-Qat)
Dir: Gitanjali Rao
Buoyancy (Australia)
Dir: Rodd Rathjen
Two Of Us (Fr-Bel-Neth-Lux)
Dir: Filippo Meneghetti
Give Me Liberty (US)
Dir: Kirill Mikhanovsky
Goldie (US)
Dir: Sam de Jong
Lynn + Lucy (UK-Fr)
Dir: Fyzal Boulifa
Two/One (UK-China-Can)
Dir: Juan Cabral
Homecoming (Indonesia)
Dir: Adriyanto Dewo
Family Members (Arg)
Dir: Mateo Bendesky
World Panorama
Dirty God (Neth-UK-Bel-Ire)
Dir: Sacha Polak
The Invisible Life Of Eurídice Gusmão (Braz-Ger)
Dir: Karim Aïnouz
The Long Walk (Laos-Sp-Sing)
Dir: Mattie Do
Proxima (Fr-Ger)
Dir: Alice Winocour
Little Joe (Austria-UK-Ger)
Dir: Jessica Hausner
My Zoe (Fr-Ger)
Dir: Julie Delpy
Saturday Fiction (China)
Dir: Le You
The Wild Goose Lake (China)
Dir: Yi'nan Diao
Balloon (China)
Dir: Pema Tseden
New Chinese Cinema
Dwelling In The Fuchun Mountains (China)
Dir: Xiaogang Gu
Lucky Grandma (US)
Dir: Sasie Sealy
Wet Season (Sing)
Dir: Anthony Chen
To Live To Sing (China-Fr)
Dir: Johnny Ma
Wisdom Tooth (China)
Dir: Liang Ming
Better Days (China)
Dir: Derek Tsang