George Miller's action-epic scoops eight awards including best film and best director.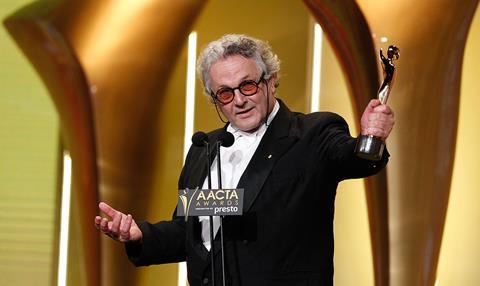 Scroll down for the full list
Mad Max: Fury Road has scooped the pool at Australia's top film awards, the AACTAs, with George Miller's high-action epic scoring wins in eight of its 11 nominated categories, including best film and best director.
Jocelyn Moorhouse's retro western The Dressmaker won the AACTA People's Choice Award at the Sydney event, and Kate Winslet won the Best Actress award for her lead performance (and convincing accent) as a spiteful Aussie seamstress in outback 1950s Australia. Winslet accepted her award via smartphone video selfie.
Her onscreen mum, Judy Davis, was the odds-on favourite to win Best Supporting Actress, which she did. In another acting gong for The Dressmaker, Hugo Weaving seemed as surprised as everyone else when his name was called to the stage of Sydney's The Star casino complex.
In other awards, Cate Blanchett received a special industry achievement award for her services to the Australian screen industry.
The multiple award winner was tearful as she accepted the award from friends and collaborators, Gillian Armstrong, Richard Roxburgh and Hugo Weaving, after a video tribute from Ridley Scott, Ron Howard, Martin Scorsese and Todd Haynes.
Blanchett is set to relocate to the U.S. with her family but spoke of the difficulty Gillian Armstrong faced in getting studio backing to cast Blanchett opposite Ralph Fiennes, in 1997's Oscar And Lucinda.
In accepting the Best Film award, Miller spoke of the "gravitational pull back to this country", which brings so many of Australia's internationally recognised cast and crew home to keep working on local productions.
The fourth film in the Mad Max franchise was produced and partly shot in Australia, and the blockbuster's May release was a major fillip to the domestic box office.
It hasn't been the only one. 2015 has been the best year for Australian cinema since 2001 (when Baz Luhrmann's Moulin Rouge was the major local drawcard). Moorhouse's The Dressmaker, which is still showing in cinemas, is only $4 million shy of Mad Max: Fury Road's $22m box office receipts.
The event was the 5th AACTA Award ceremony, after the Australian Academy of Cinema and Television Arts replaced the AFI (Australian Film Institute) Awards.
5TH AACTA AWARDS WINNERS
BEST FILM
Mad Max: Fury Road
D Doug Mitchell, PJ Voeten, George Miller
BEST DIRECTION
Mad Max: Fury Road
George Miller
BEST ORIGINAL SCREENPLAY
Paper Planes
Robert Connolly, Steve Worland
BEST ADAPTED SCREENPLAY
Last Cab To Darwin
Reg Cribb, Jeremy Sims
BEST CINEMATOGRAPHY
Mad Max: Fury Road
John Seale ASC AC
BEST EDITING
Mad Max: Fury Road
Margaret Sixel
BEST SOUND
Mad Max: Fury Road
Ben Osmo, Chris Jenkins, Gregg Rudloff, David White, Mark Mangini, Scott Hecker, Wayne Pashley
BEST ORIGINAL MUSIC SCORE
Mad Max: Fury Road
Tom Holkenborg aka Junkie XL
BEST PRODUCTION DESIGN
Mad Max: Fury Road
Colin Gibson
BEST COSTUME DESIGN
The Dressmaker
Marion Boyce, Margot Wilson
BEST LEAD ACTOR
Michael Caton
Last Cab To Darwin
BEST LEAD ACTRESS
Kate Winslet
The Dressmaker
BEST SUPPORTING ACTOR
Hugo Weaving
The Dressmaker
BEST SUPPORTING ACTRESS
Judy Davis
The Dressmaker
PEOPLE'S CHOICE AWARD FOR FAVOURITE AUSTRALIAN FILM
The Dressmaker
BEST VISUAL EFFECTS OR ANIMATION
Mad Max: Fury Road
Andrew Jackson, Holly Radcliffe, Dan Oliver, Andy Williams, Tom Wood, Fiona Crawford
LONGFORD LYELL AWARD
Cate Blanchett
BYRON KENNEDY AWARD
Adam Arkapaw
BEST FEATURE LENGTH DOCUMENTARY
That Sugar Film
Nick Batzias, Damon Gameau
BEST TELEVISION DRAMA SERIES
Glitch
Tony Ayres, Louise Fox, Ewan Burnett – ABC
BEST SHORT ANIMATION
Ernie Biscuit
Adam Elliot
BEST SHORT FICTION FILM
Nulla Nulla
Dylan River, Tanith Glynn-Maloney
BEST TELEFEATURE OR MINI SERIES
Peter Allen - Not The Boy Next Door
Kerrie Mainwaring, Rory Callaghan – Seven Network