Naji Abu Nowar's desert adventure debuted at Venice and Toronto film festivals.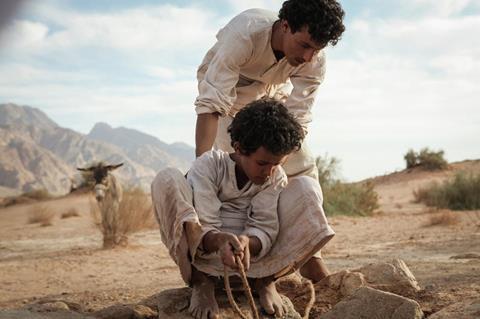 Cairo-based MAD Solutions is to handle the marketing and distribution of the new feature-length film Theeb, holding the film's theatrical distribution rights across the Arab world.
Set in the Arabian Desert of 1916, the film follows Theeb, a young Bedouin boy and his elder brother Hussein, as they leave the safety of their tribe to venture on a treacherous journey at the dawn of the Great Arab Revolt.
Theeb received the best director award for Naji Abu Nowar at Orizzonti (New Horizons) Competition within the 71st Venice Film Festival, where it had its world premiere, marking the film's first award.
It has also featured at the Toronto International Film Festival and will screen as part of the BFI London Film Festival next month.
Alaa Karkouti, CEO at MAD Solutions, said of the deal: "This new partnership marks a step forward within the framework of the company's strategy to screen significant films from across the Arab world annually in theatres and other screening venues and platforms."
Writer and producer Bassel Ghandour, founder of production company Bayt Al Shawareb, said the deal was "key to reaching the regional audience".
Written and directed by Jordanian Naji Abu Nowar, the film is his feature directorial debut. The project was first started in 2010 and received sponsorship from the Abu Dhabi Sanad Fund, the Doha Film Institute as well as the Visions Sud Est Fund.
The film is co-produced by Bayt Al Shawareb in association with Rupert Lloyd's Noor Pictures and Immortal Entertainment along with Nasser Kalaji and Laith Majali. Nadine Toukan is executive producer of the film.
Theeb was shot in the deserts of southern Jordan and involved collaboration between the filmmakers and the local Bedouin communities. The vast majority of the cast was pulled from the local tribesmen, who were given acting workshops during the eight months prior to principal photography.
Co-scripted by Bassel Ghandour and director Naji Abu Nowar, Theeb stars Jacir Eid opposite Hussein Salameh, Hassan Mutlag, along with Marji Audeh and Jack Fox.