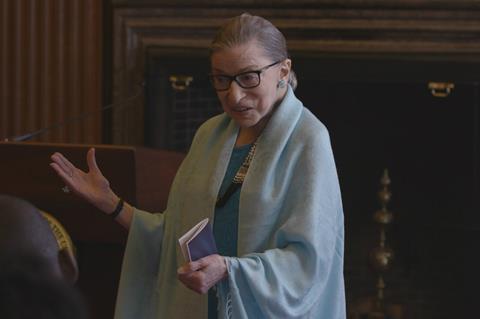 Magnolia International heads to the EFM with Sundance acquisition RBG, the documentary about the life and career of Supreme Court Justice Ruth Bader Ginsburg, and new footage from Body At Brighton Rock.
Lorna Lee Sagebiel-Torres and her team will kick off sales in Berlin on RBG (pictured), the acclaimed documentary that charts Ginsburg's trailblazing legal career, poignant lifelong romance, and late emergence as a pop culture icon. Magnolia will release RBG theatrically in the US this year and acquired global rights in Sundance with Participant Media.
Betsy West and Julie Cohen of Storyville Films directed RBG, while Storyville Films and CNN Films produced.
Head of international sales Sagebiel-Torres will also debut footage from Magnet Releasing's thriller Body At Brighton Rock, which is in production and is based on an original screenplay by XX and Southbound writer-director acclaimed Roxanne Benjamin. Karina Fontes stars as an inexperienced park ranger who must spend the night guarding a potential crime scene on a remote mountain trail.
Mongrel Media will distribute both RBG and Body At Brighton Rock in Canada through its output deal with Magnolia.
The Magnolia International sales slate includes Kate Novack's documentary The Gospel According To André about the life and career of former Vogue editor-at-large André Leon Talley, which Mongrel will distribute in the US in spring.
The team will continue sales on The Final Year, Greg Barker's inside peek at the last 12 months of Barack Obama's foreign policy team; coming-of-age comedy Permanent starring Patricia Arquette and Rainn Wilson; and John Carroll Lynch's directorial debut and comedic drama Lucky starring the late Harry Dean Stanton.