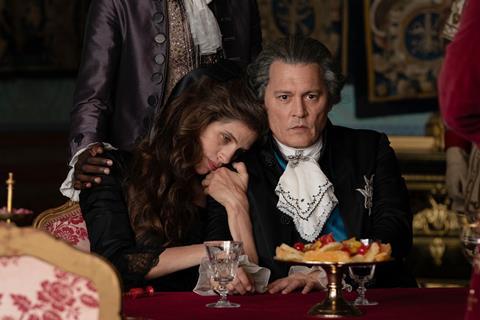 The world premiere of Jeanne du Barry, directed by Maïwenn and starring Johnny Depp, will open the 2023 Cannes Film Festival on May 16.
The festival didn't specify whether the film will bow in or out of Competition.
Jeanne du Barry will be released the same day in French theatres via Le Pacte. The costume drama was produced by Pascal Caucheteux and Gregoire Sorlat's Why Not Productions.
Also producing is Depp's production company IN.2 alongside La Petite Reine and France Télévisions, with the Red Sea International Film Festival serving as executive producer. Netflix has release rights in France after its theatrical run in the territory, now set at a 15-month window.
Director Maïwenn plays the film's titular heroine alongside Johnny Depp as King Louis XV and an A-list French cast including Benjamin Lavernhe, Melvil Poupaud, Pierre Richard, Pascal Greggory and India Hair.
The film is being sold internationally by Goodfellas (formerly Wild Bunch International). Vincent Maraval told Screen of the coveted opening slot: "We'll know right away if the films works or not."
Maïwenn plays Jeanne Vaubernier, a young working-class woman hungry for culture and pleasure who uses her intelligence and allure to become the favourite of King Louis XV who, unaware of her status as a courtesan, falls madly in love with her. Against all propriety and etiquette, Jeanne moves to Versailles, where her arrival scandalises the court.
The director was previously at Cannes in 2011 with Polisse which won the jury prize that year and in 2015 with My King, which earned a best actress prize for Emmanuelle Bercot.
The inclusion of the anticipated title, particularly on opening night, promises a media frenzy surrounding what will be Depp's first major film premiere following his highly publicised defamation trial with ex-wife Amber Heard.
The festival has previously revealed that Disney/Lucasfilm's Indiana Jones And The Dial Of Destiny and Martin Scorsese's Killers Of The Flower Moon are part of its 2023 line-up.
The full official selection will be announced on April 13 at a press conference in Paris.