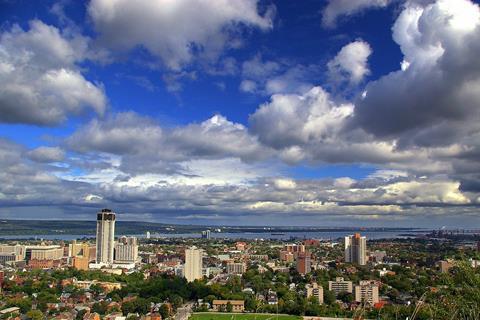 Aeon Studio Group (ASG) plans to build a 500,000 sq ft of stage space in Hamilton, Ontario, in a bid to create an international film, TV, and digital media hub.
ASG said on Tuesday (18) that its affiliate Hamilton Studios Ltd, and the City of Hamilton, have signed a memorandum of understanding ratified by the city council that lays out the business framework for the purchase and sale of the City-owned Barton-Tiffany lands.
The cornerstone of the plan is the Hamilton Studio District, a live-work-play development that will include a film and television production campus with modern soundstages, production offices, support facilities, backlot, and studios for post-production, animation, visual effects, game development, and music.
The development will also feature a crew training facility, HQ for the local talent pool and job creation effort, office buildings for film industry suppliers, and media, digital and tech companies, creative workspaces, residential and retail space, including two residential towers, and public open space.
ASG partner Mike Bruce said at a press conference that, "Hamilton is the perfect place for a production hub in the west end of the Greater Toronto Area because of its proximity to diverse filming locations, thriving arts and culture workforce, limited traffic congestion and because productions that film there qualify for additional provincial tax credits."
"This film and production hub will create high-value, high-paying jobs for people in the film industry right here in Hamilton," said mayor Fred Eisenberger. "It will see the rejuvenation of a brown field located in the heart of our City, and see this area transformed into a beautiful, campus-like environment, fully accessible to the community and conveniently located next to the West Harbour GO station and near our future LRT."
The Hamilton Studio District will be designed consistent with the City's economic plan for the Barton-Tiffany lands area. ASG said it intends to make the first 150,000 sq ft of the proposed stage space operational within a year.
"Creative industries are very much one of our key focuses in Hamilton and this investment means new jobs, new taxes and new focus on this city," said Hamilton economic development director Glen Norton. "We look forward to finalizing this purchase agreement and start the development process as soon as possible."