EXCLUSIVE: UK actor cast as Kunta Kinte in A+E Networks' scripted event series.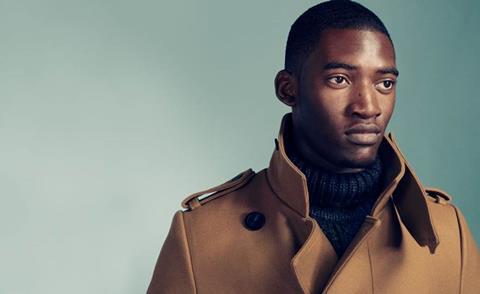 UK actor Malachi Kirby (Gone Too Far) has been cast in the lead role in A+E Networks' anticipated remake of landmark 1977 miniseries Roots.
Former Screen Star of Tomorrow Kirby is set to play Kunta Kinte in the seven-part series, which is described as a historical portrait of American slavery recounting the journey of one family's will to survive.
The narrative spans multiple generations, beginning with young Kunta Kinte, who is captured in his homeland in the Gambia and transported in brutal conditions to colonial America, where he's sold into slavery.
Throughout the series, the family continues to face adversity while bearing witness and contributing to notable events in US history - including the Revolutionary and Civil Wars, slave uprisings and eventual emancipation.
Rising star
The fast-rising Kirby, who played in 2013 comedy drama Gone Too Far and Toronto-bound Afghan war thriller Kilo Two Bravo, last year appeared in eight episodes of UK soap EastEnders and will next appear in fantasy-adventure feature Fallen, from director Scott Hicks (Shine, The Lucky One)
Roots is due to begin shooting next month in South Africa and New Orleans and will be simulcast on A&E, History and Lifetime in 2016.
As previously announced, The Matrix star Laurence Fishburne, whose recent TV hits include Hannibal and Black-ish, will star in the series as Alex Haley.
Emmy wins
The heralded original US series, based on Haley's 1976 novel, Roots: The Saga of an American Family, first aired on ABC in 1977 and went on to receive 37 Emmy nominations, winning nine. LeVar Burton played Kunta Kinte in the original series.
Roots is being written by Lawrence Konner (Boardwalk Empire), Mark Rosenthal (Mona Lisa Smile), Alison McDonald (Alpha House) and Charles Murray (Sons of Anarchy).
Casting director is Vickie Thomas (The Hateful Eight, 42, Django Unchained).
The series is an A+E Studios production in association with Marc Toberoff and The Wolper Organization, the company that produced the original Roots.
Executive producers are Will Packer, Marc Toberoff, Marc Wolper, Lawrence Konner and Mark Rosenthal. LeVar Burton and Korin Huggins are co-executive producers.
A+E Networks is distributing internationally under the A+E Studios International banner.
Kirby is repped by Femi Oguns and Jonathan Hall of Identity Agency Group, which also reps Star Wars: The Force Awakens star John Boyega and Urban Hymn actress Letitia Wright - both former Screen Stars Of Tomorrow.