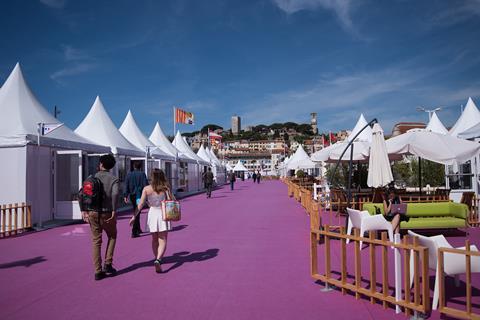 Twenty works-in-progress from four international film events have been selected for the online Marché du Film's Goes To Cannes showcase, which runs from June 22-24.
Five titles will be presented by each of Hong Kong Asia Film Financing Forum (HAF); Poland's New Horizons International Film Festival; Greece's Thessaloniki International Film Festival (TIFF); and for the first time, India's NFDC Film Bazaar.
The projects will be presented during two-hour online screenings from June 22-23. Industry professionals who attend the online screenings will be able to organise meetings with project holders in the Goes To Cannes Speed Meetings, on June 24 from 09.00-21.00 (UTC +2).
Titles include Czech-Japanese documentarian Haruna Honcoop's Olympic Halftime, presented by HAF, looking at controversial side effects of hosting the Olympics and the event's sustainability.
From the New Horizons selection, Agnieszka Zwiefka's Wika!, a Poland-Germany-Finland-Italy co-production, centres on an 81-year-old DJ who fights against her body's limitations to enjoy life until its final day.
Goes To Cannes 2020 selection
HAF
The Borderlands (Ind)
Dir: Samarth Maharjan, Prod: Ashay Gangwar, Sunil Doshi (All Things Small)
Born To Be Second (China)
Dir: Jian Fan, Prod: Richard Liang, S. Leo Chiang (FAN Film Studio)
Dear Immigrants: What Was Your First Meal? (HK)
Dir: Fei Pang Wong, Prod: Diana Cheung (Tonikaku Pictures Limited)
Olympic Halftime (Cze-Gre-Slovakia)
Dir: Haruna Honcoop, Prod: Vit Janacek (D1film)
Ningdu (HK-Neth-US)
Dir: Lei Lei, Prod: Lei Lei, Isabell Glachant (Chinese Shadows)
TIFF
Green Sea (Gre-Ger)
Dir: Angeliki Antoniou, Prod: Lilette Botassi (Inkas Films), Angeliki Antoniou (Angeliki Antoniou Filmproduktion), Jost Hering (Jost Hering Filme)
Dog (Cyp-Gre)
Dir: Yianna Americanou, Prod: Monica Nicolaidou, Effie Skrobola, Vassilis Tzanidis, Giorgos Kyriakos, Costas Lambropoulos
Esperanto (Gre)
Dir: Stratis Chatzielenoudas, Prod: Ioanna Petinaraki
If It's Not OK It's Not The End (Gre-Sp)
Dir: Salvador Muñoz Saiz, Prod: Salvador Muñoz Saiz
Made In Vain (Gre)
Dir: Michael Klioumis, Prod: Louizos Aslanidis
New Horizons
Everyone Has A Summer (Pol)
Dir: Tomasz Jurkiewicz, Prod: Magdalena Sztorc, Przemysław Miękinia (Before My Eyes)
The Moths (Pol)
Dir: Piotr Stasik, Prod: Paweł Kosuń (Centrala)
Wika! (Pol-Ger-Fin-It)
Dir: Agnieszka Zwiefka, Prod: Katarzyna Ślesicka, Ania Stylińska (My Way Studio), ma.ja.de/Germany, Pystymetsa/Finland, Stefilm/Italy
The Horse Tail (Pol)
Dir: Justyna Łuczaj-Salej, Prod: Marcin Malatyński (Indeks Film Studio)
The Last Mission (Pol)
Dir: Jacek Bławut, Prod: Anna Bławut Mazurkiewicz, Bartek Gliński (Aura Films)
NFDC Film Bazaar
Two Friends (Ind)
Dir: Prasun Chatterjee, Prod: Prasun Chatterjee, Prosenjit Ranjan Nath, Soumya Mukhopadhyay, Ivy Yu-Hua Shen (Kathak Talkies)
Fire In The Mountains (Ind)
Dir: Ajitpal Singh, Prod: Ajay Rai (Jar Pictures), Mauli Singh
Pedro (Ind)
Dir: Natesh Hegde, Prod: Rishab Shetty (Rishab Shetty Films)
Shankar's Fairies (Ind)
Dir: Irfana Majumdar, Prod: Nita Kumar (Nita Kumar Productions)
The Knot (Ind)
Dir: Ashish Pant, Prod: Kartikeya Singh (Route One Productions LLP)