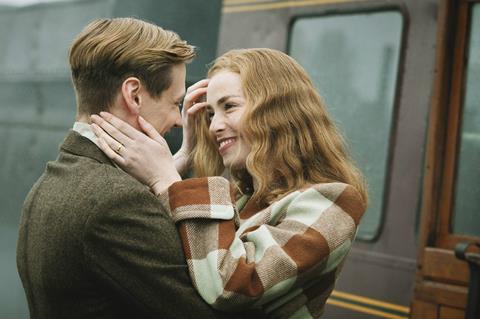 Marcus H. Rosenmuller's The Keeper, about acclaimed German prisoner of war-turned-footballer Bert Trautmann and his romance with an English woman, won the Golden Hitchcock for best film at the Dinard Film Festival on Saturday, September 28.
The film also picked up the audience award at the festival, which showcases UK films to French audiences.
The Keeper is produced by Chris Curling for Zephyr Films, Steve Milne for British Film Company (both UK operations), and Robert Marciniak for Germany's Lieblingsfilm.
It tells the story of Bert Trautmann, a German prisoner of war in northern England who is signed as a professional footballer after the Second World War, and falls in love with a local lady named Margaret. It stars David Kross and Freya Mavor (a Screen Star of Tomorrow 2013).
The film grossed £391,907 on its UK release through Parkland Entertainment in April. German company Beta Cinema handles international sales.
The prize was awarded by the main jury, headed by French actress Sandrine Bonnaire and composed of Italian actress Sveva Alviti, French actor Sami Bouajila, UK directors Michael Caton-Jones and James Watkins, UK actress Jane Horrocks, French actor Raphaël Personnaz, French singer and producer Aurélie Saada, and French director Danièle Thompson.
As a result of winning the Golden Hitchcock, The Keeper will receive a PR campaign on the channels of French broadcaster Cine+.
Further winners included Ed Lilly's rap drama Vs., which took the best screenplay prize; and Harry Wootliff's Only You, which received the Critics Award.
Hindi departs
Artistic director Hussam Hindi chose the 30th edition of the event to be his last, and was awarded the honourary medal of Dinard by mayor Jean-Claude Mahé.
Hindi has been involved with the festival since its inauguration in 1990 and has been artistic director since 1996. No announcement has yet been made regarding his successor.
He was celebrated at the closing ceremony by festival founder Thierry de la Fournière, Mahé, and UK filmmaker Mike Leigh, who received an honourary Hitchcock award from the event.
De la Fournière also reflected on the changes across three decades of the event, saying he "knew the festival when it was a child; now it is an adult."
The four-day festival is one of the few dedicated solely to UK film and is a networking opportunity for a cross-section of UK industry figures.
The programme this year included screenings of Shane Meadows' Channel 4 series The Virtues, followed by a discussion with Meadows and actress Helen Behan; a panel on acting in the films of Ken Loach, with his Sorry We Missed You leads Kris Hitchen and Debbie Honeywood; and special screenings of Gavin Hood's whistleblower drama Official Secrets, starring Keira Knightley and Matt Smith.
Dinard 2019 winners
Golden Hitchcock for best film - The Keeper, dir. Marcus H. Rosenmuller
Hitchcock for best screenplay – Daniel Hays, Ed Lilly (Vs.)
- Special mention – all the actors in the feature competition films
Critics award – Only You, dir. Harry Wootliff
Audience award – The Keeper
Hitchcock Shortcuts award – Widdershins, dir. Simon P. Biggs
- Special mention – In Our Skin, dir. Rosa Beiroa
Audience award – Capital, dir. Freddy Syborn
Heartbeat Hitchcock – For Sama, dir. Waad al-Kateab, Edward Watts
Honourary Hitchcock – Mike Leigh