Director John Madden returns while the original cast is joined by Richard Gere; first trailer released.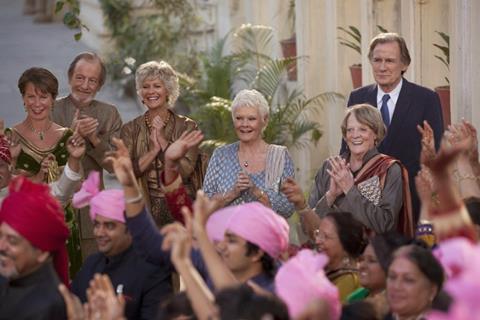 Fox Searchlight Pictures has announced Feb 27, 2015 as the UK release date for sequel The Second Best Exotic Marigold Hotel.
John Madden has returned to direct the follow-up feature to the 2012 hit, which made $136.8m at the box office.
The story is based on an original screenplay by Ol Parker, from a story by Parker and Madden.
The veteran cast has reunited for the film including Judi Dench, Maggie Smith, Bill Nighy, Dev Patel, Penelope Wilton, Celia Imrie, Ronald Pickup, Tina Desai, Diana Hardcastle and Lillete Dubey.
Additional cast making their debut in the series include Tamsin Greig, with David Strathairn and Richard Gere.
The story centres on two hopeful new arrivals, played by Greig and Gere, at The Best Exotic Marigold Hotel for the Elderly and Beautiful who quickly learn that there is only a single room left to rent.
Producers are Blueprint Pictures' Graham Broadbent and Peter Czernin, with Participant's Jeff Skoll and Jonathan King, John Madden, Michael Dryer serving as executive producers.